Traffic was a mess early Monday morning as California Highway Patrol officers raced to the scenes of multiple car accidents, the same day that rain began blanketing the Bay Area in the first major weather event of the season.
One of the most serious accidents was reported about 2 a.m. in Livermore, when a big rig carrying a load of frozen chickens overturned on westbound Highway 580 just east of Greenville Road, according to the CHP and Traffic Management Center.
The accident wasn't necessarily rain-related, a dispatcher from TMC said, citing some sort of "vehicle code violation" involving the driver. Then, about 2:45 a.m., another big rig collided with an SUV in the same area, prompting police to issue a warning because of the slick roads. Motorists were advised to use the Altamont Pass instead.
CHP Race to Multiple Car Accidents, Including Frozen Chicken Spill, as Rain Blankets Bay Area
Commuter Royal Sims was was visibly frustrated when he told NBC Bay Area he knew he would be late for work as a result.
"It's just real mess out there," he said. "It's just nasty."
Ponding, Flooding in Sunnyvale During First Major Rain of Season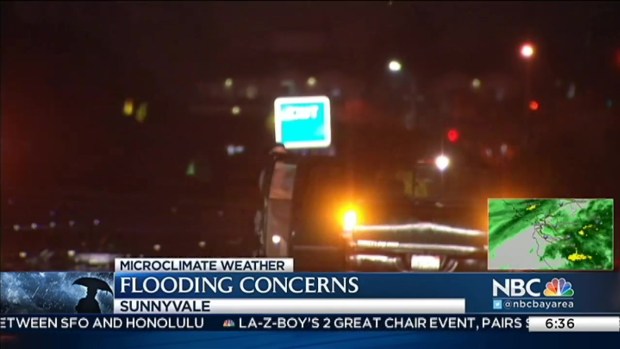 Meanwhile, a still unidentified man made an unfortunate choice Monday – to steal a canary yellow pick-up truck. The suspect got stuck on westbound Highway 580 when CHP officers, who had been alerted by a Central Valley police agency that he was allegedly armed, nabbed him.
Officers cornered the man with their guns drawn and although it appears that the suspect didn't resist arrest, a shotgun was found inside the stolen truck.
Also, around 3:30 a.m., a Sig-Alert was issued near the San Francisco side of the Bay Bridge, after a big rig tipped and began leaking oil. As of 5:45 a.m., three lanes of eastbound Interstate Highway 80 were re-opened after hours of cleanup.
In the South Bay, ponding started to fill up parts of the Lawrence Expressway on-ramp onto southbound US Highway 101 in Sunnyvale. Fremont police reported flooding at Mission and Niles boulevards, as well as Paseo Padre Parkway and Hancock Place.
Showers with a slight chance of thunderstorms are expected throughout the afternoon. Tuesday is expected to clear up.
Flares alerting drivers to ponding on Lawrence Expwy on-ramp onto SB 101. @nbcbayarea#weatheralert@MikeyNoWaypic.twitter.com/uTjVsici8A

— Kris Sanchez (@KrisNBC) November 2, 2015