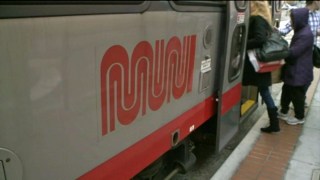 Muni will likely lose one of its personal touches to technology next year.
Muni plans to replace the paper transfers that drivers give to passengers by hand with transfer tickets issued by new fare boxes, a move initiated after learning that the manufacturer of the current fare boxes isn't making the parts anymore.

"It will allow for a more efficient and reliable process for passengers and will eliminate the need for drivers to pass out transfers," MTA spokesman Paul Rose told SFGate.
The new fare boxes should also cut down on thefts of paper transfers, which drivers sometimes leave accessible to riders on a quasi honor system basis.
While riders told the publication they won't miss the current transfers, at least one local artist has used them to inspire his art.
According to Muni Diaries, San Francisco artist Kurt Schwartzmann used the transfers as materials to help create the drawings and collages that pay tribute to Muni drivers in his forthcoming art show "Yellow Line," on display Saturday and Sunday at First Congregational Church of San Francisco.