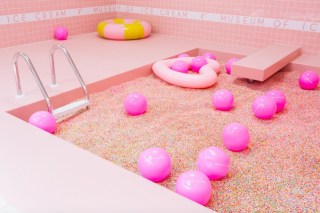 San Francisco's Museum of Ice Cream announced that it will kick off the holiday season with a new tradition.
Museum visitors will be able to celebrate "Pinkmas," what MOIC describes as an interactive experience. In addition, a 12,000-square-foot "winterscape" will feature a pink forest with holiday spaces, a gingerbread house and dancing under disco lights.
Visitors will also be able to try the new "Gingerbread Disco" flavor and treats from MyMo Mochi, Ghirardelli and La Michoacana. Pinkmas at MOIC will run Nov. 23 through Dec. 20. Tickets are available at museumoficecream.com.