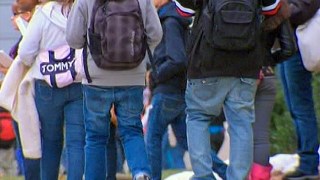 NFL star and Oakland native Josh Johnson wants to #doitfortheculture by hosting a concert that features Mistah F.A.B. at a high school in the East Bay.
The New York Giants quarterback partnered with Oakland Tech High School and Fam 1st Foundation, a non-profit in Oakland launched by Johnson and Marshawn Lynch, to host "Do it for the Town" concert/event at the school's auditorium from 6 p.m.-10 p.m. Saturday, in hope of encouraging young people to go out and vote, or register to if they're not over 18.
"Everyone please come out to do your civic duty," Johnson said in statement. "By registering to vote we have the power to create change. Come support the power to vote and enjoy a great lineup of FREE live performances."
The event is free for anyone 16 years or older. They will get to see performances by Mistah F.A.B, J Stalin, H.U., Sleepy D, and iSTEViE, organizers said.
Celebrities and public figures can be a huge motivator in getting young people to the poll. After Taylor Swift directed fans to go to Vote.org so they could register to vote, and nearly 65,000 people between 18 and 29 years old have done so.
In California, over 209,577 16- and 17-year-olds have pre-registered to vote, according to Secretary of State Alex Padilla.
Gov. Jerry Brown signed a bill in 2014 that allowed voter pre-registration beginning at age 16 through VoteCal, California's statewide voter registration database.