The Napa County Sheriff's Office has been suspended from a federal military-surplus program after an M-16 military rifle was stolen out of an employee's vehicle in May, information released by the Pentagon reveals.
As a result, the agency can no longer obtain military gear from the Defense Department's 1033 Program. The department is one of two Bay Area law enforcement agencies that have been suspended from the program.
The Pentagon program distributes surplus military gear, including weapons and vehicles, to local law enforcement agencies around the nation. It's the same program responsible for outfitting the police in Ferguson, Missouri, with tactical gear such as armored trucks and assault rifles.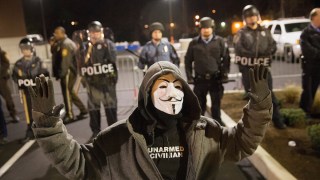 Dramatic Photos: Ferguson on Edge
Napa County Undersheriff Jean Donaldson confirmed Friday that the agency was suspended on May 6 of this year. He told NBC Bay Area that the weapon was "stolen from a vehicle" but could not recall what specific model it was, saying only that it was a "military-grade" rifle.
According to The California Office of Emergency Services (Cal OES), the weapon in question was an M16A1, a 5.56mm assault rifle capable of semi-automatic and automatic fire. According to Department of Defense data obtained by the New York Times, Napa County law enforcement agencies received 10 5.56mm rifles in 2008.
Donaldson could not say how long the suspension will last but said the agency would have to undergo a federal inspection of its storage and safety procedures.
The Pentagon data also indicated that nine other California law enforcement agencies have been suspended, including the San Mateo County Sheriff's Department. CalOES told NBC Bay Area that each agency was suspended because it was "unable to account for some equipment acquired through the 1033 program."
According to CalOES, San Mateo County Sheriff's department could not account for two M16A1 rifles and was suspended on October 23, 2013. Calls to the Sheriff's office were not immediately returned.
All told, 148 local law enforcement agencies are currently suspended around the country as of August 25th, 2014 when the data was obtained. About 8,000 agencies participate in the program nationwide.
A "suspended" agency does not have to return previously obtained military equipment, but cannot obtain new gear until the Department of Defense considers the agency in "good standing" again. More egregious handling of military gear could result in a rare "termination," meaning the agency has to actually return the equipment. At this time, only seven agencies have been terminated.