A week before he begins his fifth training camp as coach of the Warriors, Steve Kerr joined roughly 40 colleagues on a comprehensive tour of the team's future home, the Chase Center in San Francisco's Mission Bay.
Kerr was not alone: the entire coaching staff took part, player Andre Iguodola attended, along with General Manager Bob Myers and owner Joe Lacob.
"You think back to the groundbreaking -- and then I've made a couple visits since then, but now you look at it and it's just amazing what they've accomplished," Kerr said while taking a tour of the Chase Center. "All of us are going to be living very different lives when this building opens up. Most of us will be moving."
Warriors Coach Steve Kerr Tours New Chase Center in SF
And that includes Kerr. This time next year hew ill be living in San Francisco, having the practice facility within the new arena itself being part of the reasoning for the move.
But the feeling is bittersweet for Kerr and the Warriors, knowing a year form now they will be saying goodbye to Oracle Arena in Oakland.
"It's exciting thinking about playing in here and it's definitely sad thinking about saying goodbye to Oracle," Kerr said. "One of the great home court advantages in the league, but we're pretty confident that we'll have a home court advantage here too."
Warriors GM Bob Myers Tours Chase Center in SF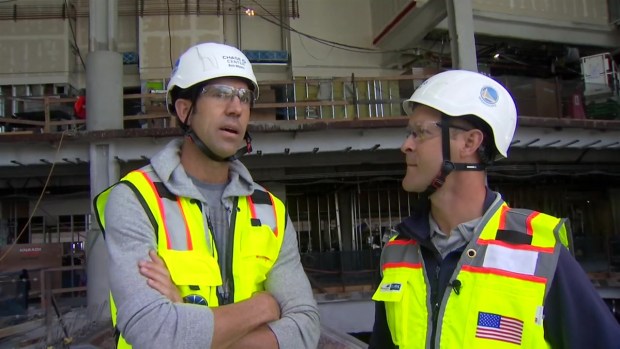 The team is lauding fans proximity to the court and its sightlines as reason why the Chase Center will be a home court advantage. But it is also the amenities that completely separate it from Oracle Arena.
Yes, there are the beyond luxurious suites, but also the 29 retail spaces and a sky bar restaurant that will be open year round, even if you do not have a ticket to a game or event.
The Chase Center is scheduled to open around next fall, just prior to the start of the 2019-2020 National Basketball Association season.