Law enforcement officials urged patience while they investigated details surrounding the fatal New Year's Day shooting of a 22-year-old man by a transit agency police officer.
Bay Area Rapid Transit Police Chief Gary Gee said that the agency is "committed to completing an unbiased, thorough and detailed investigation" of the shooting death of Oscar Grant.
Family members of Grant filed a $25 million claim against BART Tuesday.
Oakland civil rights attorney John Burris said he will release details of the claim, which is a precursor to a lawsuit against BART, Tuesday afternoon.
Home Video Shows BART Deadly Shooting
Several unanswered questions remained after BART officers w
ent to Oakland's Fruitvale station to investigate reports of a supposed brawl on a train on which Grant was riding around 2 a.m. Thursday.
A friend of Grant's who was with him on the crowded Oakland train station platform at the time of the shooting said Grant pleaded with officers not to harm him.
Man Shot By BART Police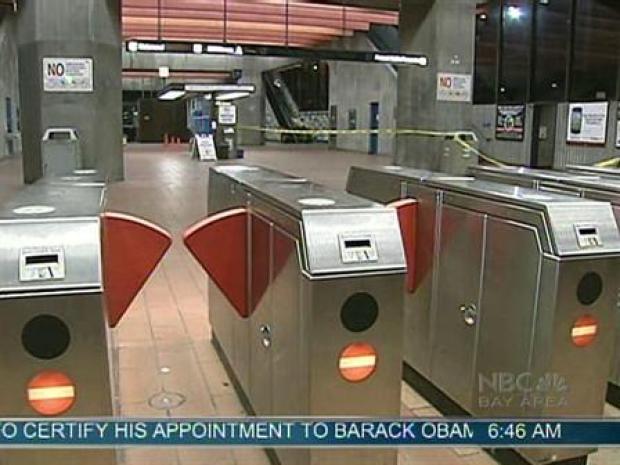 "Oscar yelled, 'You shot me! I got a four-year-old daughter,"' said Fernando Anicete. "Oscar was telling us to calm down and we did. We weren't looking for any trouble."
Burris claims the shooting was intentional, and that he planned to ask Alameda County prosecutors to seek criminal charges against the officer. Burris said Grant, of Hayward, Calif., posed no threat to officers when a bullet entered his back and ricocheted to his lung area, killing him almost instantly.
"The officer leaned (in), was straddling over him and pointed his gun directly into the backside and shot (Grant)," said Burris, adding that Grant was handcuffed -- after he was shot. "This was not a deadly force situation."
Questions Surround BART Shooting
Gee said BART police are fully cooperating with the district attorney's investigation.
Grant's mother, Wanda Johnson, and Sophina Mesa, his daughter's mother, wept uncontrollably as Burris spoke about Grant. They did not speak, but several said Grant, a butcher at a supermarket near the train station where he was killed, was a loving father showing signs of maturation.
Cephus "Bobby" Johnson, Grant's uncle, said he text messaged his nephew just after midnight Thursday saying, "Happy New Year ... I love you."
Johnson never got a reply.
"I wondered why he didn't text me back," a teary-eyed Johnson said. "And then I found out why."
BART spokesman Jim Allison has said the officer's gun went off while police were trying to restrain Grant and that Grant was not cuffed. The unidentified officer is on paid leave as BART investigates the shooting.
Mario Pangelina, Mesa's brother who was riding on the same train, two cars behind Grant on Thursday morning, said Sunday he saw Grant beg police not to Taser him because of his child.
"He kept saying, 'Please, please don't Tase me,"' Pangelina said. "He was not acting hostile."
Other witnesses said Grant was lying on his stomach on the station's platform when he was shot.
Recordings of the shooting by witnesses have surfaced and Burris said BART had confiscated numerous cell phone images from others he believes contain additional footage.
Services for Grant will be held Wednesday.