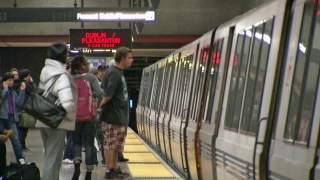 San Francisco city officials announced a plan on Thursday to build a new BART station at 30th and Mission Streets, as part of a larger plan to invest in housing and small businesses, according to a press release.
The new station aims to link the Muni J-church line and connect the various modes of transportation that converge at this intersection.
A plan to build this station was first proposed back in 2003, but has only recently become possible because of engineering advances.
The group behind this proposal consists of Assemblyman David Chiu, BART Board Director Nicholas Josefowitz and District 9 Board of Supervisors Candidate Joshua Arce. They announced their plan to build thousands of new units of affordable housing and give more financial backing to local, small businesses during Thursday's press conference.
Arce addressed several community members and local small business leaders who attended the announcement, ensuring that this project is working for the good of the community.
"Our plan will deliver housing for all of us, including low-income, worker, artist, teacher and middle-income affordability," Arce said. "Working together we will support the long-term success of long-time local businesses. All along the way, the plan will create good-paying local construction jobs and opportunities for local contractors and professional service providers."
There are many different building options for the new site, according to Arce, including a new Safeway in the parking lot of the BART station.
Josefowitz and Chiu came together to announce details of the plan as well as show their support for Arce.
"In the face of wrenching change, our communities cannot stand still or move backwards," Josefowitz said in a statement. "We need leaders who can bring folks together to hammer out a vision for our future. Josh is that leader, and what he's presenting here is that vision."
30th-La Lengua BART station & housing plan announcement pic.twitter.com/DbPZqIsyYF

— Burrito Justice (@burritojustice) July 28, 2016