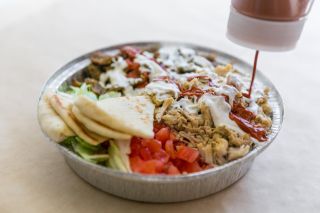 The Halal Guys, a cult favorite in New York City known for its gyros, chicken and rice and consistent lines, has started taking pre-orders for delivery service in the South Bay in advance of a forthcoming San Jose location.
Customers of Caviar, from Sunnyvale to San Jose, can now schedule orders of $11.99 gyro, chicken and combo platters for delivery beginning May 11. The menu will be available between 11 a.m. and 2 p.m. Monday through Friday.
The Halal Guys are expected to open a location at 81 Curtner Avenue in San Jose, as well as in Berkeley and San Francisco.
Halal cooking refers to food that is prepared under Islamic dietary guidelines, something the Bay Area hasn't traditionally had in abundance.