With a 26-23 overtime loss to the Colts in Indianapolis Sunday, the 49ers' road to a victory over the next month looks bleak.
After falling to 0-5 with Sunday's loss to Indianapolis, the 49ers will have to travel across country again to take on 2-2 Washington next Sunday, the team's third-straight road game. Then come the Cowboys, Eagles and Cardinals before finally catching a break with a game at home against the NFC East's last-place team, the New York Giants.
The first win of the 2017 has been elusive, and Sunday's was extra slippery.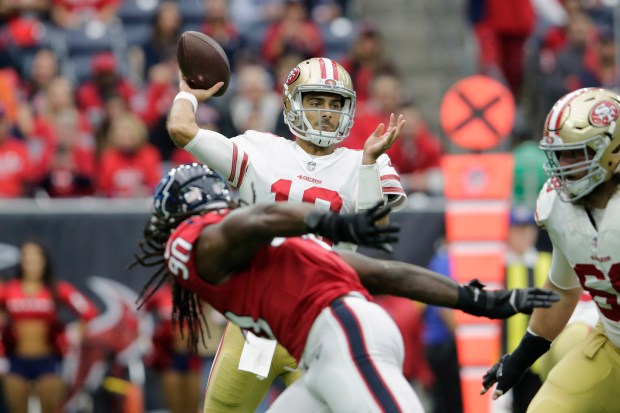 San Francisco 49ers 2017-2018 Season Highlights
San Francisco ended the fourth quarter down 16-6, collected a Robbie Gould field goal to get within 16-9 and then allowed the Colts a touchdown on a 3-yard run by quarterback Jacoby Brissett to fall behind 23-9. But then, San Francisco's dormant offense came alive, driving for two TDs to tie the game and send it to overtime.
First, San Francisco went 79 yards in five plays, scoring on a 6-yard shovel pass from Brian Hoyer to fullback Kyle Juszczyk. Then came a 14-play, 89-yard drive, with Hoyer passing five yards to rookie tight end George Kittle for the score. Gould's extra point tied the game 23-all to send it to extra time.
In OT, both teams were scoreless in their first possessions — thanks to Ray-Ray Armstrong's interception to stop a Colts drive in the red zone — but then Indianapolis marched from its own 18 to the 49ers' 33, from where Adam Vinatieri kicked a 51-yard field goal with 1:43 remaining in the extra period to hand the 49ers their fifth-straight loss under new head coach Kyle Shanahan.
With his late flurry, Hoyer had a big yardage day, completing 29-of-46 throws for 353 yards and two TDs without an interception. But the Niners again couldn't do much on the ground, gaining just 66 net yards, with rookie Matt Breida leading the way with 49 yards on 10 carries.
The 49ers now return to the Bay Area to get ready for another long trip to Washington next weekend.