What to Know
At least 40 people killed by fires burning across Northern California

More than 100,000 people forced to evacuate

5,700 homes and businesses destroyed
California fire authorities said Sunday they have turned a corner in battling several of the wildfires that have devastated wine country and other rural parts of Northern California over the past week.
Some counties were preparing to let more evacuees return to their homes amid improving weather. The winds that have been fanning the deadliest and most destructive cluster of wildfires in California history did not kick up overnight as much as feared.
"Conditions have drastically changed from just 24 hours ago, and that is definitely a very good sign. And it's probably a sign we've turned a corner on these fires," said Daniel Berlant, spokesman for California Department of Forestry and Fire Protection.
"We're starting to see fires with containment numbers in the 50 and 60 percent, so we're definitely getting the upper hand on these fires."
Flames Continue to Flare One Week After Firestorm Ignited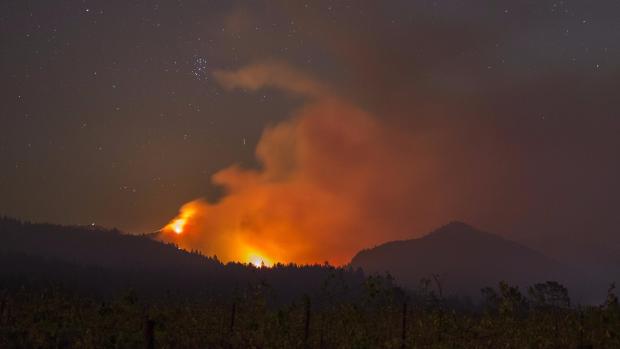 The wildfires that erupted last weekend have killed at least 40 people — 22 in Sonoma County, eight in Mendocino County, six in Napa County and four in Yuba County — and destroyed at least 5,700 homes and other structures. As of Sunday, roughly 75,000 people were under evacuation orders, down from nearly 100,000 the day before.
A total of 217,556 acres — nearly 340 square miles — has burned statewide since the firestorm ignited, according to Cal Fire.
The Atlas Fire has burned 51,057 acres in Napa and Solano counties and is 65 percent contained; the Tubbs Fire has scorched 44,881 acres in Napa County and is 60 percent contained; the Nuns Fire, which now includes the Partrick, Adobe, Norbbom, and Pressley fires, has burned 48,627 acres in Sonoma County and is 40 percent contained; the Pocket Fire has burned 11,889 acres in Sonoma County and is 30 percent contained; and the Oakmont Fire in Sonoma County has charred 575 acres and is 15 percent contained, according to Cal Fire.
Napa County fire Chief Barry Biermann said there has been "little to no growth" for the Atlas Fire, allowing firefighters to turn their attention to the Nuns Fire. Biermann also said that crews "don't anticipate" the Tubbs Fire to make its way into the town of Calistoga.
RAW: Bodycam Footage Shows Daring Rescue in Sonoma County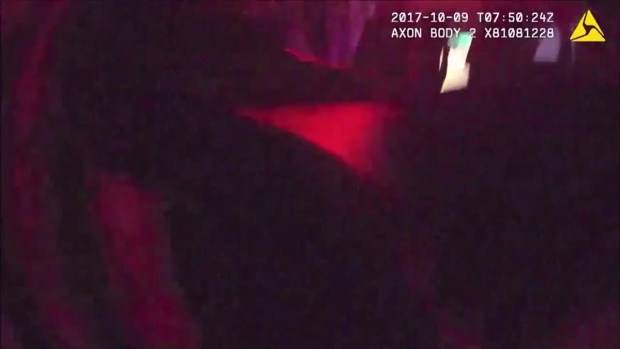 "We're not out of the woods yet, but we're making tremendous progress out there," Biermann said.
Belia Ramos, the chair of the Napa County Board of Supervisors, said "we do not anticipate any more evacuations at this time," but asked evacuated residents to practice patience as crews mop up the damage and work to open cordoned off sections of the region.
On Sunday, the Sonoma County sheriff's office said the county would start assessing evacuated areas, which is a first step toward allowing people back home. Mendocino County said it expected to allow even more people home on Sunday as well.
Some people were growing increasingly impatient to return home — or at least see whether their homes were still standing.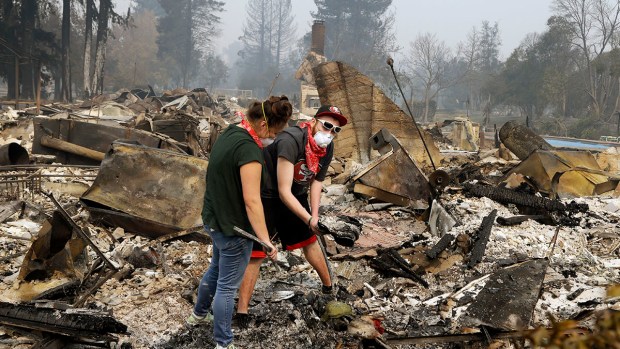 North Bay Wildfires: The Smoldering Aftermath

"We're on pins and needles," Travis Oglesby, who evacuated from his home in Santa Rosa, told the Sonoma County sheriff on Saturday. "We're hearing about looting."
Douglas and Marian Taylor stood outside their apartment complex Saturday in Santa Rosa with their two dogs and a sign that read "End evacuation now."
Their building at the edge of the cordoned-off evacuation zone was unharmed. The couple said they are spending about $300 a day staying at a motel and eating out, and they want to return home because the fire does not appear to threaten it.
Dozens of people remain unaccounted for, though officials said they believe they will locate most of them alive. Sonoma County Sheriff Rob Giordano said missing persons reports were at 1,734 on Sunday. Of those, 1,560 have been found safe.
Sonoma County officials Sunday released the names of four more people who were killed in wildfires: Sharon Rae Robinson, 79, of Santa Rosa; Daniel Martin Southard, 71, of Santa Rosa; Lee Chadwick Roger, 72, of Glen Ellen; and Carmen Colleen McReynolds, 82, of Santa Rosa.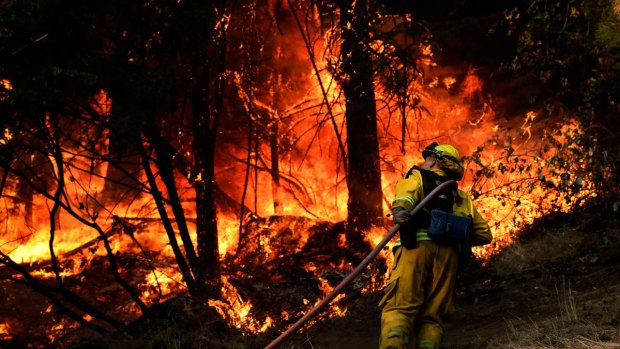 North Bay Inferno: Images From Wine Country's Deadly Fires
Most of the dead are believed to have died late on Oct. 8 or early Oct. 9, when the fires exploded and took people by surprise in the middle of the night. Most of the victims were elderly.
"It's a horror that no one could have imagined," Gov. Jerry Brown said, after driving past hundreds of "totally destroyed" homes with Sens. Dianne Feinstein and Kamala Harris.

In all, 16 large fires still burned across the northern part of the state, with nearly 11,000 firefighters attacking the flames using more than 1,000 fire engines, helicopters and air tankers. An estimated 2.2 million gallons of fire retardant have been dropped on the flames since they ignited.
The Redwood/Potter Fires burning in Mendocino County have torched 35,000 acres and are 30 percent contained; the Long Fire has scorched 100 acres in Lake County and is 25 percent contained; and the Sulphur Fire in Lake County has scorched 2,207 acres and is 75 percent contained, according to Cal Fire.
Aerial Views of Destruction Left By Northern California Wildfires
Weather permitting, containment of the Northern California blazes is not expected until at least Friday, according to Cal Fire spokesperson Anthony Brown.
No causes have been determined for the fires, though power lines downed by winds are seen as a possibility.