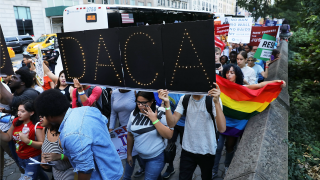 City of Oakland officials said Friday that they are preparing for a march in their city on Saturday that's been called to protest President Donald Trump's cancellation this week of a program that protects undocumented young people from being deported.
On Tuesday, the Trump administration announced the end of the Deferred Action for Childhood Arrivals program, or DACA, which currently shields from deportation about 800,000 people who arrived in the United States as children. About 223,000 DACA grantees live in California.
Rally organizers say that the event will begin at 2 p.m. on Saturday in Frank H. Ogawa Plaza, in front of Oakland City Hall.
In a social media posting, rally organizers said, "The Trump Administration has recently sent out and initiated threats on our undocumented siblings and it's time that we show them solidarity and fight back against the normalization of Trump's cruelty and bigotry."
Organizers said, "We must show up as a community in solidarity with those who are targeted by the threats on DACA made by Trump and we must resist the hateful, misinformed actions that this administration is taking to further marginalize and oppress our fellow citizens."
They said, "Ending DACA will affect over 11 million children. We must be prepared and ready to mobilize the second one of their lives is under attack."
City of Oakland officials said that at this time the rally's organizers haven't pulled a permit and no specific route for a march has been shared.
City officials said they will be prepared with staff and resources to facilitate expressions of free speech at the rally and will also maintain peace and safety for residents and staff and protect property.
They said the Oakland Police Department is prepared to address any criminal behavior that would damage property or jeopardize the safety of the public or police officers and people who engage in that type of behavior will be subject to arrest and prosecution.
City officials said traffic and transit could be intermittently disrupted by the march and the Police Department will facilitate traffic to ensure pedestrian and vehicular safety.
They said people can call 511 to get up-to-date transit information.
The DACA program was established in 2012 through an executive order by President Barack Obama. U.S. Attorney General Jeff Sessions said Tuesday he believed Obama's order was "an unconstitutional exercise of authority by the executive branch."
The Homeland Security Department on Tuesday announced a phased termination in which deportations could begin in six months.
No new applications for the program will be allowed.