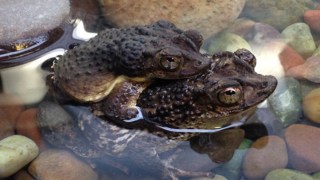 The Oakland Zoo is one of four zoos partnering to help preserve the Puerto Rican crested toad by breeding and releasing thousands of tadpoles in the Caribbean island.
The Puerto Rican crested toad is a critically endangered species.
The Association of Zoos and Aquarium, a nonprofit organization supporting conservation projects across the globe, collected groups of the endangered toad species to house them in captivity for breeding.
In addition to Oakland, the Buffalo, Queens and Omaha zoos are participating in the breeding program.
More than 350,000 tadpoles have been released in Puerto Rico under the breeding program.