In Oakland Saturday, protesters clashed with police for hours during the latest Occupy Oakland rally and protest.
In the end police said they arrested some 300 people. One protester and three police officers were hurt, according to city officials.
Saturday's protest was a planned event. Occupiers said earlier in the week that they were going to take over an undisclosed building. In the end that turned out to be three buildings. First the group tried to "occupy" the Henry J Kaiser convention center, then the YMCA on Broadway and finally Oakland City Hall. They were met by armed police at every point. Clashes between police and protesters turned violent on several occasions.
Police said people in the crowd pelted officers with bottles, metal pipes, rocks, spray cans and burning flares. In return, Oakland police said they deployed smoke, tear gas and beanbag projectiles. They said the combine number of people in all the protests was fewer than 1,000.
Oakland Mayor Jean Quan blamed a splinter group for the violence. "Once again, a violent splinter group of the Occupy Movement is engaging in violent actions against Oakland," Quan said at a late Saturday night press conference.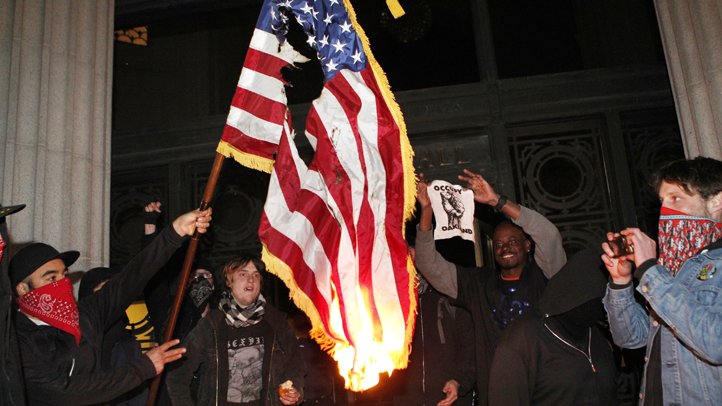 Several local television news vans were vandalized during the night. Some in the group also burned an American flag at one point (photo to right).
Protesters announced that they will continue the demonstration Sunday, with a planned meeting at Frank Ogawa Plaza.
Saturday's march began around 1:30 p.m. Saturday, with dozens of police in riot gear standing by. Around 2:30 p.m., marchers started tearing down fences around the convention center.
@OaklandPoliceCA tweeted around 3 p.m. "Area of Oakland Museum and Kaiser Center severely impacted. Persons cutting and tearing fences for entry. Bottles and objects thrown at OPD,."
Police eventually declared the area on Oak Street between 10th and 12th an unlawful assembly. They closed the street in that area, as well as Fallon Street at 10th Street and Second Avenue at 10th and 12th streets.
During the rally one of the organizers, Shake Anderson, said, "We are here to protect each other and to be civil disobedient. ... We're doing it to change the world, not just today but every day."
The protesters were walking through Laney College around 2:30 p.m. Some people were wearing bandanas over their mouths and others were holding signs saying, "We are the 99%." A marching band dressed in pink and black tutus and neon pick tights also was in the crowd.
Once they reached the center, organizers planned to kick off a two-day "Oakland Rise-up Festival" to celebrate the establishment of the movement's new space.
Occupy Oakland spokesman Leo Ritz-Bar said the group's new headquarters "signals a new direction for the Occupy movement: putting vacant buildings at the service of the community."
He also warned that protesters could retaliate against any repressive police action by blocking the Oakland International Airport, occupying City Hall or shutting down the Port of Oakland.
City officials said that while they are "committed to facilitating peaceful forms of expression and free speech, police would be prepared to arrest those who break the law.
"The city of Oakland will not be bullied by threats of violence or illegal activity," city administrator Deanna Santana said in a statement.
"This community has a rich history of community engagement and progressive activism to address the very complex issues that the protesters claim to stand for -- poverty, the housing crisis, homelessness, social justice, literacy, education and economic inequality -- none of which can be addressed through violence, threats or intimidation."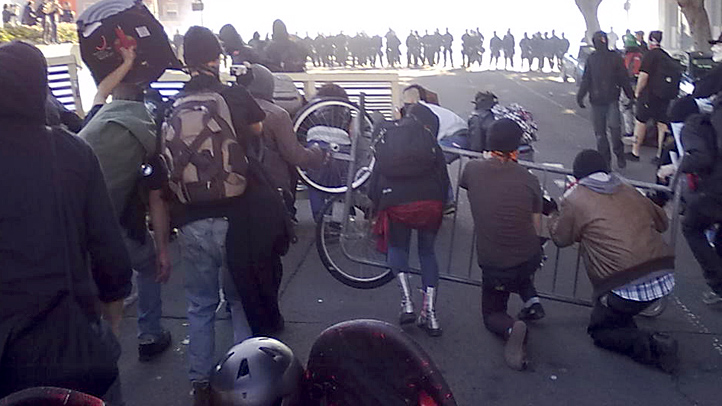 Bay City News contributed to this report.
Published at 7:41 AM PST on Jan 29, 2012 | Updated at 8:58 PM PST on Jan 29, 2012