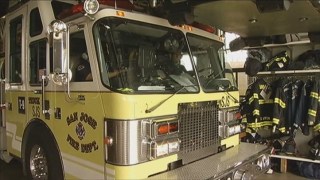 An off-duty San Jose firefighter alerted residents to a fire burning in their home and safely evacuated them Friday morning, a fire official said.
Nine people, including three children, were displaced by the blaze, San Jose fire Capt. Mike Van Elgort said. Without the swift actions of firefighter Stan Wong, Van Elgort said, the situation could have been much worse.
Fire crews responded around 9:20 a.m. to a report of a house fire near the intersection of Stemple Court and Jessica Way, Van Elgort said.
The fire, which Van Elgort said appears electrical in nature, started in the attic of the home.
Fire crews were able to extinguish the blaze by around 10 a.m., confining it to the attic space with only moderate damage, he said.
The American Red Cross assisted the family with translation, but Van Elgort said they were able to find a place to stay while repairs on the home are being completed.
There were no working smoke detectors in the house, Van Elgort said.
"It's important to remember that especially with hot weather like this, all electrical systems are at risk," Van Elgort said. "Residents should be cognizant and remember to keep your house under surveillance and have working smoke detectors."