Swipe through 360 photos and videos of the massive debris flow that slammed into a hillside home in Orinda.
The slide happened Wednesday night. At around noon on Friday, trickles of water still streamed down the hillside, in between rocks and into pools of silt.
Uphill, the wet ground still menaced the houses below. Downhill, to the left in these 360 videos, one house has been red-tagged and another yellow-tagged by authorities.
The mud crashed into a back room and shoved a hottub across the back patio. Engineers took photos of the damage and neighbors wandered by to peek.
Hilary Fabian stopped to stare while on a walk thorough the neighborhood with a friend. As a life-long Orinda resident, she's used to shoring up walls in the rain. But this was different.
"It's crazy. It's a whole mountain that came down," she said, with a nervous laugh. "I've never seen anything like that. Between this and the sinkhole on Miner Road, I feel like the little town of Orinda is, is falling."
Below you'll see the slippery yellow silt covering the patio, and the rocks that busted into a back room and bowed out the side wall.
The mud slammed into a hot tub on the back patio, shoved it over a few feet and stopped at the back wall.
Mudslide Slams Into Orinda House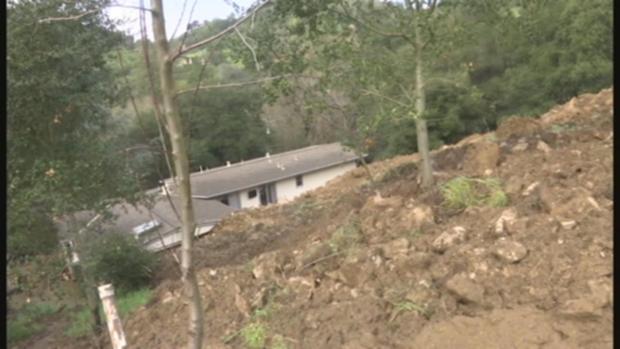 Published at 5:00 PM PST on Feb 10, 2017 | Updated at 6:41 PM PST on Feb 10, 2017