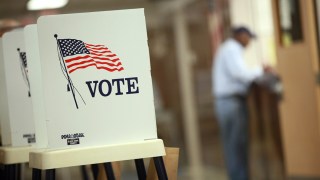 Residents of Alameda and Contra Costa counties who unexpectedly find themselves in an Alta Bates hospital in Berkley or Oakland on Election Day will still have an opportunity to vote, hospital officials said.
That's because on Nov. 7 and Nov. 8 hospital volunteers will bring registered patient voters ballots if they have not previously requested an absentee ballot.
The volunteers will get started Monday morning when they place a postcard on each patient's breakfast tray to let them know they can still vote. The card will give patients a phone number to call if they want to vote.
Patients who call will be given an application to request an absentee ballot while other volunteers visit other patients to remind them they can vote and offer them an application.
Later in the day, volunteers will make trips to the two county elections offices where patient's names will be checked to see if they have registered to vote, have already voted this year with an absentee ballot or requested one.
If someone has already requested an absentee ballot, then volunteers won't be able to get one for them, hospital officials said.
Volunteers will pick up the ballots and voter information packets for each qualified patient and give those to the patients Tuesday morning. Anyone who needs help reading, marking or signing their ballot will get help from a volunteer.
Volunteers will pick up the completed ballots later in the morning and in the afternoon. The ballots will then be delivered to the appropriate election office.
The two days are busy one for volunteers since the three hospital campuses have a total of nearly 1,000 beds. About 15 volunteers along with nurses will be working to help patients vote.
Ballots in English, Spanish, Tagalog, Vietnamese and Chinese will be available. Hospital interpreters will also be available to volunteers helping patients who speak Spanish or Chinese.
The Alta Bates Summit Volunteer Services Department started helping patients vote during the 2004 election.