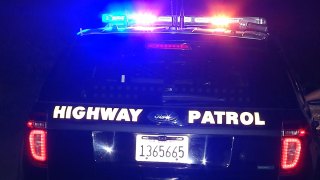 A 20-year-old man died early Sunday morning when he was struck and killed by an unknown vehicle after he allegedly fled on foot from the scene of a different car accident on a highway in downtown San Jose.
The incident began at around 3:50 a.m., when California Highway Patrol officials received a report of an overturned SUV on the northbound Interstate Highway 280 connector ramp to southbound state Highway 87, according to CHP officials.
The SUV somehow landed on its roof and was blocking the right shoulder lane. The seven passengers inside, including the driver, all fled the scene of the accident on foot, CHP officials said.
CHP officers arrived and detained four of the passengers. Assisting police officers then detained the driver and another passenger.
The last passenger allegedly walked into the northbound lanes of state Highway 87 and was fatally struck. The victim, a San Jose resident, was pronounced dead at the scene.
The vehicle that struck the victim fled the scene and has not been identified, according to CHP officials.
The SUV's driver, identified as Isabel Fernandez, 19, of Santa Clara, suffered minor injuries. She was arrested on suspicion of driving while under the influence of alcohol and committing a hit and run.
Another passenger, a 27-year-old man from San Jose, was also arrested on suspicion of public intoxication, CHP officials said.
The remaining four SUV passengers were all taken a hospital with minor injuries.
Anyone who may have witnessed the initial accident or the subsequent fatal hit and run crash is asked to contact the San Jose Area CHP office at (408) 467-5400.