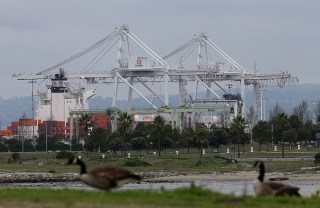 A longshore worker at the Port of Oakland was taken to a hospital Sunday after he was rescued from a vehicle trapped underneath two containers, a port spokesman confirmed.
Just before 9 a.m., firefighters responded to the 1700 block of Middle Harbor Road, the Oakland Fire Department told the East Bay Times. A 60-year-old man had to be extricated by fire rescue crews before being transported by ambulance to a hospital, the Times said.
According to spokesman Mike Zampa, two containers fell at the port, one sinking in the water at the berth and the other landing on the terminal.
He did not say what caused them to fall or provide any more details about the incident.
EDITOR'S NOTE: An earlier version of this story incorrectly identified the falling object as cranes.