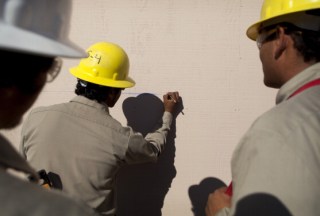 A pre-apprenticeship program aimed at helping youth train for construction careers started this week at UCSF Benioff Children's Hospital Oakland, hospital officials said Thursday.
The official kickoff of the Future Designers and Builders Program happened Thursday at 5 p.m. at the Children's Hospital's Oakland Research Institute library at 5700 Martin Luther King Jr. Way in Oakland.
Fourteen youth are participating in the 15-week program that will expose them to construction work in real-time and give them school credit if they earn a passing grade.
The construction work they'll be exposed to is a 10-year construction project to expand and renovate the hospital.
The hospital's vice president of development, construction and real estate Doug Nelson said the demand is there for people to work in the construction industry.
"We're working to increase the supply," Nelson said.
The youth are from Fremont High School, Oakland Technical High School, Oakland Emiliano Zapata Street Academy, Rudsdale Continuation School and McClymonds High School.
This spring's program follows a successful pilot program last summer when eight students participated.
Each participant will get construction site tours and construction safety seminars, hear lectures and guest speakers and work on their own projects with the architects and builders working on project at the hospital.
They'll also get an overview of urban planning and attend at least one planning commission meeting, among other exposure to construction.
"They'll do things trying to replicate real world experience," hospital spokeswoman Melinda Krigel said.
Students meet two times a week from 4 p.m. to 6 p.m. on Tuesday and 3 p.m. to 6 p.m. on Wednesday. Participants have to be at least 16 years old and Oakland Unified School District students in good academic standing, Krigel said.
Whether they pass or fail depends on their attendance, participation and their presentation on a final project.
They'll have homework in addition to their regular schoolwork.
"It's a good amount to take on," Krigel said.
Nelson said program organizers hope to continue the program until the hospital is completely expanded and renovated, which is expected to be in 2025.