Life is good for former Santa Clara police chief Steve Lodge -- or specifically, public life has been good to Lodge.
After 30 years on the force, at age 52 he collects a $200,000 annual pension, and is set to cash in even more as chief of security at the new 49ers stadium, where he'll collect $100 an hour on the public dime, according to the San Jose Mercury News.
The arrangement is fishy to some -- especially opponents of the stadium plan -- because Lodge was a vocal supporter of the stadium plan that voters approved last year, without which he wouldn't be able to "double-dip": collect a hefty pension while returning to work for the city.
Lodge and city officials defended the arrangement, saying that the former top cop is the best-qualified candidate for the job.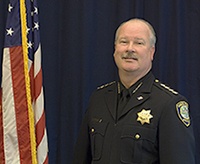 That may be so, but there's still an issue, according to stadium critic Jay Keehan, in an interview with the newspaper. "There's an inherent conflict of interest that he's going around promoting the stadium deal and then goes and takes the position," Keehan told the Merc.
The ballot measure allowed Santa Clara to spend tens of millions of dollars in redevelopment cash on the $1 billion stadium plan. This includes $1.5 million in consultant fees, which pays for Lodge's new gig. He could collect as much as $26,000 this year in his new job, working five hours a week, according to the newspaper.