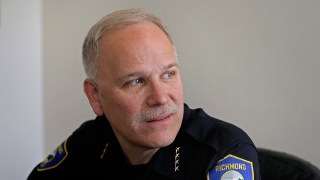 Richmond's controversial police chief is headed to Tucson, according to an NBC affiliate.
Christopher Magnus, who was widely beloved and criticized for supporting members of the Black Lives Movement and who saw the crime rate in his city drop under his watch, will soon be the new Tucson Police Chief, the city manager told News 4 Tucson.
Richmond's homicide rate fell from 40 in 2006, the year Magnus arrived in Richmond, to 12 last year, a 70 percent decline, the Contra Costa Times reported. Magnus did not call the newspaper back for comment.
In an interview last month with the Times, Magnus said he was heavily recruited by the Police Executive Research Forum, but didn't consider leaving Richmond until the opportunity to lead the Tucson Police Department came up earlier this year.
San Jose police Chief Larry Esquivel had also appliced for the job, but announced Oct. 29 that he was hired by the Tracy Police Department.
The city manager said Magnus will earn a salary of $200,000.
Magnus will be recommended as the new chief at Tuesday's mayor and council meeting. If approved, Magnus will start on Jan. 1.
The current Tucson police chief Roberto Villasenor retires next month.