Cal Fire crews contained 80 percent of the Creek Fire in Napa County by Tuesday evening, up from 25 percent the day before, and reopened a main artery into Yountville.
Because of the good news, evacuations were lifted early Tuesday morning after the vegetation fire had scorched 65 acres. The homes that were placed under the evacuation orders are mostly vacation homes and already empty, Cal Fire said. No homes burned during the fire, which broke out Monday at 4:15 p.m. near the 6100 block of Dry Creek Road, between Mount Veeder and Wall roads.
Cal Fire said that Dry Creek Road, three miles west of Yountville, had reopened late Monday night.
The blaze threatened one home on Clear Creek Road, but crews were able to save it. The Napa County Sheriff's Office says mandatory evacuations are in place for Campbell Flats and Campbell Creek.
Resident Dorian Greenaw didn't have to evacuate, but the flames had him thinking about it. He said he and his wife likely would grab the dog and some pictures before fleeing.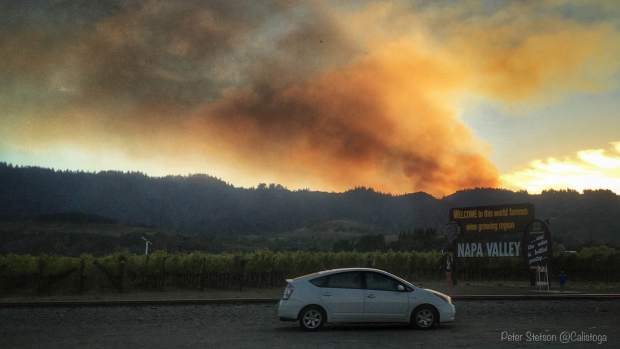 Photos From Napa County Wildland Fire
"It's nerve-racking, but there's nothing you can do about it so you have to go see for yourself," he said.
Cal Fire estimated the blaze, which started Monday, would be fully contained by Wednesday night.
No injuries or damaged structures have been reported. The Cause of the fire is under investigation.
6000 block of Dry Creek Rd.
"We can see the flames."
30 acres & holding #calfire#napa county, mayacamas range pic.twitter.com/Rw3iMTo2W7

— Peter Stetson (@Calistoga) October 11, 2016
Fire coming from the Mt. Veeder direction.. not sure how big, just noticed it from the winery. pic.twitter.com/buia7EWP4s

— Saddleback Cellars (@saddlebackwine) October 10, 2016
Mandatory evacuation in place for Campbell Flats and Campbell Creek. Avoid the area due to the fire. https://t.co/RQx7dS52be

— CALFIRE/Napa Co FD (@napacountyfire) October 11, 2016
Firefighters are battling a 30 acre fire off Dry Creek Road, 3 miles west of Yountville (Napa County). #CreekFirepic.twitter.com/CYZEBo0f9U

— CAL FIRE (@CAL_FIRE) October 11, 2016
#napafire shot at 5:00 from drone at 489' @napacountyfirepic.twitter.com/czyechJ4dV

— George Minardos (@gmtweet3) October 11, 2016