A tearful Sheriff Ross Mirkarimi was sentenced in a domestic violence case Monday morning in a San Francisco courtroom.
Mirkarimi was sentenced to three years' probation, 52 weeks of domestic violence classes, 100 hours of community service and a small fine for one misdemeanor charge of false imprisonment.
That closes the legal case against him. But his political future is still very uncertain. The sheriff had a meeting with Mayor Ed Lee late Monday afternoon where he most certainly made the case that he deserves to stay on the job as sheriff.

Christine Salvey, Mayor Ed Lee's spokesperson said prior to the meeting that the mayor "considers this is a very serious issue." Lee is expected to make some kind of announcement about the case Tuesday.
Mirkarimi left a bruise on the arm of his wife Eliana Lopez following an argument on New Year's Eve (picture below).
Mirkarimi was stoic during sentencing, but became tearful when he faced dozens of reporters in the hallway outside. He said he was ashamed of his behavior and apologized to his family and colleagues.
He said he is not the person he thought he was and said he started counseling "not long ago to address arrogance and anger issues."
"There are no excuses and I accept full responsibility for my actions," Mirkarimi said.
He also said he knows he let the public down, but added that the sheriff's department was running well despite his personal strife.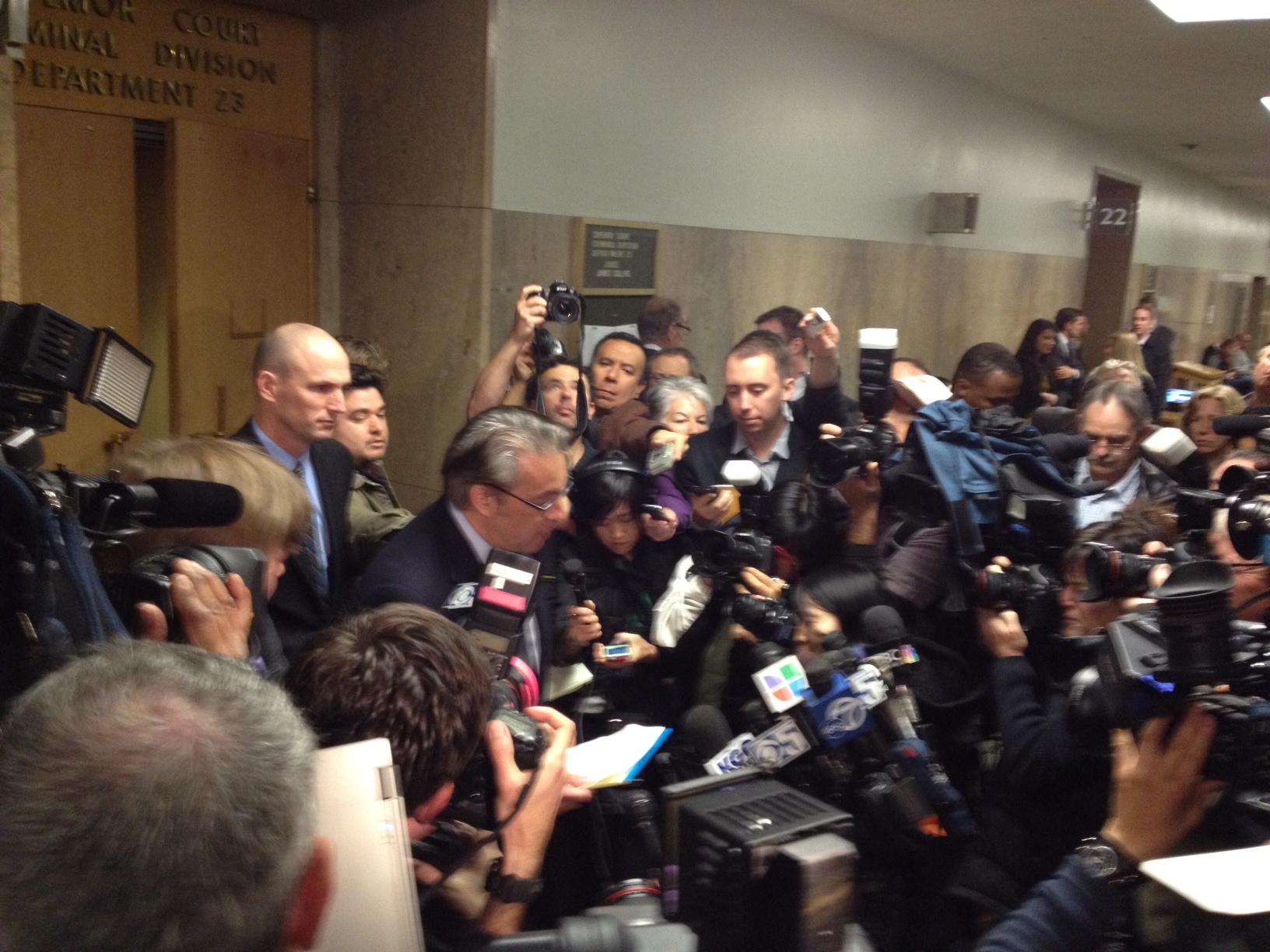 "I do not believe domestic violence is a private family manner," Mirkarimi said referring to an earlier statement he made. He told reporters that he was advised to say that and regrets that he has not been able to correct that statement.
Mirkarimi has been dealing with the high profile domestic violence case since taking office in early January.
In exchange for the guilty plea, prosecutors dropped the three other charges connected to the New Year's Eve incident.
The change in charge means that Mirkarimi will technically be able to keep his gun and his job as San Francisco Sheriff.
He could still be recalled by voters or suspended by the mayor.
Last week Lee said he was considering whether to attempt to remove Mirkarimi from office. Under the city charter, the mayor has the option to suspend the sheriff for official misconduct. The charges would be considered at a hearing of the city's Ethics Commission, which would then make a recommendation to the Board of Supervisors.
Mirkarimi just finished two terms on the board, so he is well known there. It would take 9 of the 11 supervisors voting against him to make the suspension a reality.
The other issue that Mirkarimi still faces is a court order to stay away from his wife. The judge said that order remains in place for now. It will have to be lifted by a family court judge. Mirkarimi is currently allowed supervised visits with his young son, Theo.

District Attorney George Ga
scon held a news conference to discuss the case Monday afternoon.
He said the guilty plea gave him comfort and reassurance he did not politicize the case. Gascon noted the allegation of false imprisonment, which means Eliana Lopez was not free to leave her home, was a domestic violence charge.
He referred to the sheriff as a "batterer" in his press release.
"My primary concern has always been the safety of Ms. L and her son. I am certain that, if he embraces his responsibility, the batterer's counseling we have mandated for Mr.
Mirkarimi will help him," Gascon said in a statement.
Gascon said that while the outcome of case may have disappointed, "We have afforded Ross Mirkarimi an opportunity to redeem himself to family and community. It is my sincere hope he will embrace this occasion to change his ways," Gascon said.
Gascon also publicly acknowledged Mirkarimi's neighbors Ivory Madison and Callie Williams for bringing the incident to the attention of police.
"Madison found herself in a difficult situation trying to protect a friend who was in danger. In a surprising and disappointing turn, she was vilified for this act of courage. I find this shameful. People in our community should be applauded for stepping forward to help a fellow San Franciscan. We, particularly those of us in law enforcement, need to encourage the community to help us when they see or learn of a crime," Gascon said.
"People in our community should know domestic violence will not be tolerated. San Francisco should rest assured I will not turn a blind eye to domestic violence," Gascon said.