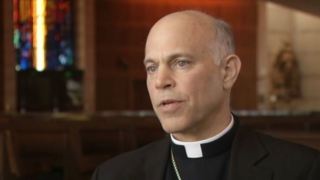 Many Roman Catholics in San Francisco are sparring over Archbishop Salvatore Cordileone.
Cordileone is a vocal opponent of same-sex marriage in one of the country's most gay-friendly cities. He has proposed that staff at archdiocese high schools teach that marriage is between a man and a woman and that sexual relations outside of marriage are "gravely evil.''
Critics of Cordileone placed a full-page ad this month in the San Francisco Chronicle, pleading with Pope Francis for a leader with a more inclusive agenda. Then the archbishop's supporters put out their own press release, arguing he was only defending the church's teachings.
Cordileone told The Associated Press this week that he was surprised by the controversy. He said he is changing the tone of his message, but not the content.