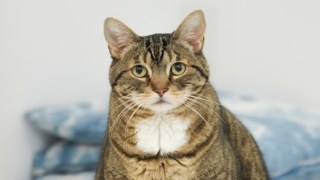 Can an adorable animal predict who is going to win the Super Bowl?
Turbo the cat lost his human mom when she passed away a few months ago, but now his caretakers at KitTea cat cafe in San Francisco are hoping he will find a new home thanks to Super Bowl enthusiasm.
Turbo will offer his choice for the winner of the Super Bowl at 5 p.m. on Friday at KitTea. The event is open to the public and will include a chance to win free cat visitation time at the cafe and other prizes for cats.
KitTea will also screen the Hallmark Channel's Kitten Bowl on Sunday for patrons who want to have a sip and nibble while hanging out with the cats and perhaps considering one to adopt.