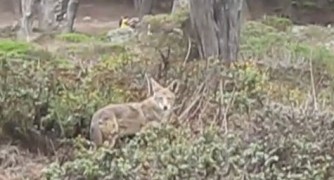 A local San Francisco dad, identified only by his YouTube user name, has captured video of a coyote he says came too close for comfort to his daughter, according to SF Weekly.
The dad says he was with his two children near the Cliff House when one of the beasts "targeted his eldest daughter," the newspaper reported.
The dad says he ran down the coyote before it could get too close to the older daughter, who was riding on the scooter. He also said that he tried to report the incident to authorities -- but no official, the father said from 311 to Animal Care and Control, would help him out.
The dad may have been an overprotective papa bear, the newspaper reported: experts with Project Coyote said that the animals are almost certainly harmless.
No coyote-on-human attack has been reported in San Francisco, according to Camilla Fox, the nonprofit's executive director.
There are about 100 coyotes in and around Golden Gate Park, experts estimate.
Warning: The embedded YouTube video below contains explicit language.