A New Jersey man who was arrested after a bi-coastal crime spree that included the theft of a Picasso drawing from a San Francisco gallery and other valuable artwork from two Manhattan hotels was sentenced today in New York state court.
Mark Lugo, 31, of Hoboken, N.J., stole a Picasso pencil drawing titled "Tete de Femme" from the Weinstein Gallery near San Francisco's Union Square on July 5. Lugo was arrested in Napa the day after the theft and the drawing was found undamaged.
Lugo pleaded guilty in San Francisco in October to grand theft charges and was sentenced the following month, then was released and extradited to New York to face separate charges there for stealing six pieces of art from two hotels.
New York prosecutors said Lugo stole five paintings from the Chambers Hotel in Midtown Manhattan on June 14, 2011, then stole a sketch from artist Fernand Leger valued at $350,000 from a gallery connected to the Carlyle Hotel on the Upper East Side.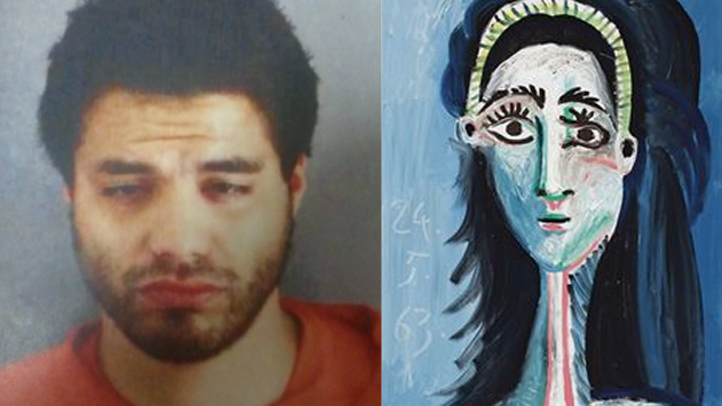 All six pieces of art were later found hanging on the walls of Lugo's Hoboken apartment, which was searched after his arrest for the Picasso theft, prosecutors said.
He pleaded guilty on Feb. 7 to a charge of second-degree grand larceny and was sentenced today to one to three years in prison, Manhattan District Attorney's Office spokeswoman said.
the spokeswoman said Lugo did not say anything on the record during his sentencing today.
Attorney Douglas Horngrad, who represented Lugo in his case in San Francisco, said after his Nov. 21 sentencing for the Picasso theft that Lugo suffered some sort of "psychotic episode" that led him to steal the artwork on both coasts, as well as expensive wine from a store in Hoboken, all within a 30-day period.
Bay City News

Published at 12:37 PM PST on Feb 28, 2012 | Updated at 3:13 PM PST on Feb 28, 2012