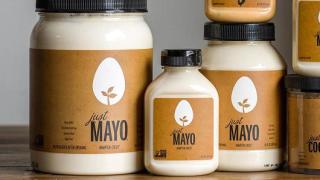 A San Francisco food startup celebrated a major victory on Friday.
Hampton Creek, which manufactures an eggless, vegan mayonnaise called Just Mayo, will be allowed to keep its name, though it'll have to redefine its meaning.
After months of discussions, Just Mayo's maker Hampton Creek says it worked out an agreement with the Food and Drug Administration that lets the eggless spread keep its name, as long as a few changes are made to its label. The resolution comes after the FDA sent a warning letter to Hampton Creek in August saying Just Mayo was misbranded because mayonnaise is defined as having eggs.
"This isn't a story about winning or losing. It's a story about creating a just food system. A food system that is healthier and stronger and more aligned with our values," Hampton Creek CEO/founder Josh Tetrick said in a statement. "It's a story about a group of professionals and a young company thoughtfully engaged in that mission."
Without providing details, the FDA said in statement it worked with Hampton Creek to address the issues cited in its letter, and that it considers the matter to be resolved.
As part of the deal, Hampton Creek says Just Mayo's label will make it clear that the product does not contain eggs. The changes include making the words "egg-free" larger and adding "Spread & Dressing." An image of an egg with a pea shoot inside will also be smaller.
A definition of "just" as being "guided by reason, justice and fairness" will be put on the new label as well.
The agreement would bring closure to one of the challenges in the past year faced by Hampton Creek, a San Francisco startup that has made headlines with its $120 million in funding and a mission of improving the food system with options that are healthier, more affordable and better for the environment. The attention has been enough that The New York Times declared "mayo" to be one of the "top new food words" of 2015 earlier this week.
The spotlight has also made Hampton Creek a target. Last year, Hellmann's mayonnaise maker Unilever filed a lawsuit saying Just Mayo's name was misleading. After facing backlash from Hampton Creek supporters, Unilever dropped the suit.
Behind the scenes, Hampton Creek also raised concerns at the American Egg Board, which promotes the egg industry and is responsible for the "Incredible, Edible Egg" slogan. The group's CEO, Joanne Ivy, tried to stop the sale of Just Mayo at Whole Foods, according to emails obtained through a public records request by Ryan Shapiro and Jeffrey Light, Freedom of Information Act experts.
The attempt to stop Just Mayo's sale raises regulatory issues because the board is overseen by the U.S. Department of Agriculture, making it a quasi-governmental body. After The Associated Press reported on the emails Sept. 2, Ivy retired earlier than planned and the USDA began an investigation into the egg board.
Hampton Creek enlisted the help of Stuart Pape, a former attorney with the FDA based in Washington, D.C. who specializes in labeling and regulatory issues at the law firm Polsinelli.
The letter from the FDA had also noted that Just Mayo contains ingredients that are not permitted by the standard of identity for mayonnaise. It also said that the product is not qualified to make implied health claims that it can reduce the risk of heart disease.
Pape said that the formula for Just Mayo is not changing, and that the other labeling issues have been resolved.
Just Mayo has been praised by acclaimed food blogs. Serious Eats conducted a blind taste test of various mayonnaise brands on the market and Just Mayo performed better than actual mayonnaise.