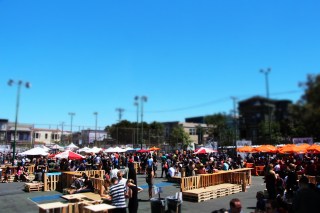 The seventh edition of the San Francisco Street Food Festival will be the first to be held outside of the Mission District.
The two-day food and music event will take over Pier 70 in the Dogpatch neighborhood from 11 a.m. to 6 p.m. this weekend.
La Cocina launched the annual Street Food Festival, held in the streets of the Mission District surrounding its headquarters, in 2009, a showcase for the business incubator's low income food entrepreneurs as well as other independent artisans of the edible. It steadily grew into a phenomenon that has drawn approximately 80,000 people over two days.
This year, food vendors range from young mobile businesses getting their first or second break to buzzing restaurants like Lolo, Kin Khao, and Dragon Beaux, all offering portable bites and sips. New "chef's islands" will showcase many iterations of dumplings, tacos, and seafood dishes.
This year, La Cocina has partnered with local music and culture organizers Noise Pop and The Midway.
"We've watched La Cocina grow the San Francisco Street Food Festival into one of the most authentic and unique event experiences in the Bay Area, so it's exciting for us to help them take it to the next level," said Noise Pop general manager Dawson Ludwig.