San Carlos city officials have declared a State of Emergency over safety concerns with a natural gas line that runs through the city.
City leaders on Friday also requested PG&E shut down the pipeline until a hearing could be conducted with CPUC to address the issue. PG&E declined the request, according to city officials.
The city on Friday night obtained a temporary injunction against PG&E in San Mateo County Superior Court requiring PG&E to immediately shut off service to pipeline 147. A hearing is scheduled for Oct. 24.
Concerns over natural gas transmission line 147 were highlighted in a series of internal PG&E e-mails. Issues with the gas line include certain sections made up of a "thin wall" pipe made in 1929 and external corrosion with fatigue cracks on the pipe.
An e-mail also questioned whether "we are sitting on a San Bruno situation."
The condition of the pipeline was discovered after a leak repair.
Line 147 runs the length of the City of San Carlos under Britain Avenue, a residential street that carries thousands of residents daily, officials said.
Mayor Bob Grassilli in a statement said he is frustrated with PG&E's refusal to immediately suspend operation of the gas line in question.

"PG&E's own information on Line 147 is contradictory, and confusing regarding the safety of line 147," Grassilli said in a statement. "We believe PG&E has a responsibility to our community to put safety ahead of operational challenges, and should immediately suspend the use of line 147, until such time they can explain to the California Public Utilities Commission and the public the inconsistencies in their own documentation, records and internal communications regarding line 147."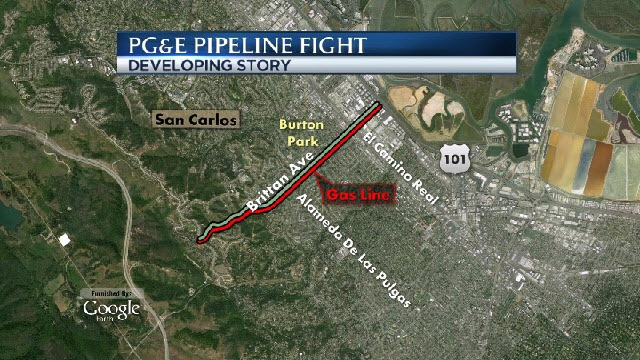 PG&E released a statement to NBC Bay Area that said Line 147 is safe.
"If the line wasn't safe, we wouldn't keep it in service," PG&E said in a statement.
In addition, PG&E officials said they are voluntarily reducing the line pressure 20 percent below the already reduced pressure.
Read a response letter PG&E sent to the City of San Carlos here.
The City of San Bruno pipeline explosion on Sept. 9, 2010 killed eight people, injured 66, and leveled an entire neighborhood.