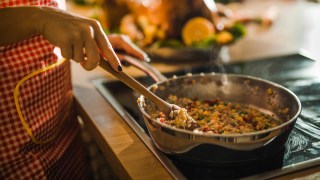 Not in the mood to cook up a Thanksgiving feast this year? Would you rather dine out and have the meal prepared and served to you? You're in luck. There are plenty of restaurants all around the Bay Area open on everyone's favorite gluttonous holiday.
We ran a search over at OpenTable.com and found over 100 open eateries on turkey day.
In addition, here's a list of restaurants that still have openings on Thursday.
International Smoke, San Francisco
One Market Restauran, San Francisco
Julia's Restaurant, Berkeley
The Girl & the Fig, Sonoma
FARM at Carneros, Napa (limited spacing)
The Boon Fly Café, Napa (limited spacing)
II Fornaio, Corte Madera
Massimo's, Fremont (limited spacing)
Viognier, San Mateo (closing at 8 p.m.)