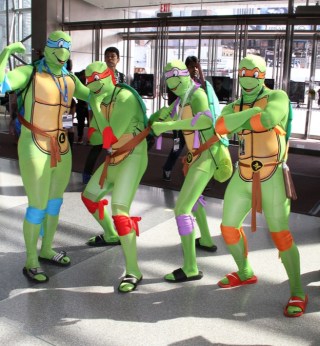 Comic book aficionados and superhero revelers, the time has come.
San Francisco Comic Con opened its doors Friday morning and fans will be able to enjoy the entertainment festival during the extended three-day weekend event, according to the San Francisco Comic Con website.
Celebrity panels, a slew of cosplay modeling and even a lightsaber academy are just some of the scheduled events on tap for attendees, according to the event website.
Unfortunately for fans, two last-minute cancellations have somewhat put a damper on the weekend. Krysten Ritter, the star of Netflix's hit series Jessica Jones, and Jason Momoa from HBO's Game of Thrones will no longer be in attendance, according to SFist. Don't fret because Star Wars actor Ian McDiarmid and Jenna Coleman from the television series Doctor Who are still gearing up for their appearances on Saturday and Sunday, SFist reports.
The three-day event, which will cost you anywhere from $30 to $80, continues through Sunday at the San Francisco Marriott Marquis, according to the website.
Debate is swirling, but SFist, SFGate and SFStation report that this year's comic con event is the city's first major scale comic convention to take over San Francisco in the last five years.