San Francisco residents and leaders were divided, a day after Police Chief Greg Suhr resigned at the behest of the mayor, hours after a 27-year-old woman was shot to death by one of his sergeants.
But the camps agreed on one thing: Changes need to be made within the embattled department as it moves forward, though how to get there was under debate.
Suhr has made no public comments since Mayor Ed Lee made the announcement late Thursday. Suhr will be replaced by Deputy Chief Toney Chaplin, a 26-year department veteran.
One one side, groups such as the Public Defenders for Racial Justice Committee, noted the importance of such a move.
"As black and brown bodies of unarmed men and women lie in the streets of San Francisco, having been felled by way too many police bullets, we also know that this is only the first step toward building public trust in the city's administration," Co-Chair Rebecca Young said. "We renew our call for a change in police culture, " from the top of the command staff to the cadet just entering the police academy.
Young's sentiments were echoed by some politicians as well.
San Francisco Supervisor David Campos had urged Lee to remove Suhr from his post – a job he's held since 2011. His reign included high-profile officer- involved police shootings – including three since December when Mario Woods, 26, an unarmed African-American man was killed and captured on video – and a racist texting scandal among his rank-and-file.
Earlier this month, a Blue Ribbon Panel found a lack of transparency and accountability within the department.
RAW VIDEO: San Francisco Mayor Announces Police Chief's Resignation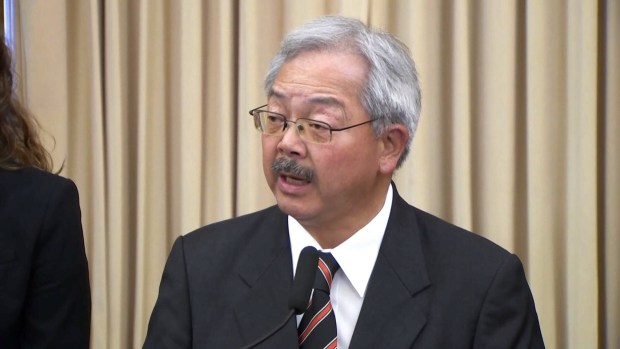 The Thursday morning shooting of the woman in the Bayview seemed to be the last straw, especially since there was no evidence she was armed or had any intention to ram the possibly stolen car into police. She did drive away, police said, as officers tried to stop her about 9:45 a.m. at Elmira Street near Interstate Highway 280. By Friday morning, police had not identified the woman or explained the circumstances of the shooting.
"With yet another civilian killed by @SFPD today," Campos tweeted. "@mayoredlee must show leadership, remove @SFPDChiefSuhr & begin real reform of @sfpd NOW!"
But not everyone applauded Suhr's resignation.
Martin Halloran, president of the Police Officer's Association, said Suhr's departure is a "great disappointment," especially since he had having given so much of himself during a very difficult period.
In fact, Halloran said Suhr will go down as will go down as "one of the most successful" chiefs in the history of San Francisco Police Department. Halloran credited Suhr's leadership, "innovative programs," and youth in underprivileged neighborhoods, as examples of the good work he's done, serving in the department for a total of 34 years.
Halloran also said the union "looks forward" to working with Chaplin, who received support of Rev. Amos Brown, the president of the San Francisco chapter of the NAACP. Amos told the Associated Press that Chaplin had the "charisma, chemistry and courage to lead this department."
Former police chief Tony Ribera told NBC Bay Area on Friday that he feels Suhr got embroiled in a "streak of bad luck," adding that the chief becomes the "focal point of criticism" of the entire department and a "tangible target."
He credited Suhr will holding town hall meetings after officer-involved shootings, where he was heckled. "He should be commended for that," Ribera said.
Many in the community were eager not only to find a new leader to head the department, but to make real changes in the future.
Campos told NBC Bay Area on Thursday night that he is planning to introduce legislation in the coming days to remove the Office of Citizen's Complaints from the mayor's power because it doesn't make sense that the mayor picks chief and then oversees office of complaints.
Young, from the Racial Justice Committee, said the public defender's office is demanding that every officer "receive regular and repeated training on how implicit racial bias affects their perception of danger and of who is walking down the street in a suspicious manner."
She said her group also wants the department to implement a 10-Point Plan for Police Department Reform, which includes the need for accurate data collection on detentions, traffic stops and so-called consent searches.
"People of color across this country are throwing off the yoke of race hatred and the police occupation in their communities," she said, "and we demand to be treated as human beings."
.@SFPDChiefSuhr resigns after latest deadly officer-involved-shooting.Protesters demand @mayoredlee resign next. #SFpic.twitter.com/JBBI4vCAwC

— Stephanie Chuang (@StephChuang) May 20, 2016