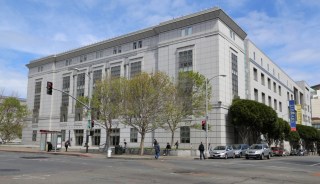 Patrons and staff at the San Francisco Public Library now enjoy the fastest WiFi Internet access of any library in the country.
The Main Library has become the first 10 gigabit library in the country, meaning visitors and librarians can use the Internet at a rate of 10 gigs per second.
The upgrade was made possible thanks to a collaboration with the city and county of San Francisco and the Corporation for Education Network Initiatives in California (CENIC). The library's new high speed connection comes via the California Research and Education Network (CalREN), which is operated by CENIC.
According to an announcement from CENIC, seven other branches in the city currently connect to the Main Library's fiber at 1 gigabit and the remaining 20 branches will soon be able to connect at this speed.
"In keeping with our mission of equality and being a 21st century library, this broadband increase allows our patrons to have the very best in access and opportunity," said City Librarian, Luis Herrera, in the statement.
The most immediate educational and creative benefits of this faster access should manifest at The Mix at SFPL, the Main Library's recently debuted teen center that offers the use of technology including audio/video editing software and 3D printers.