The San Jose City Council is poised to open up four warming centers, declare a "shelter crisis" and spend up to $430,000 to do so to try to tackle the homeless problem ahead of the winter months.
And in a separate but related matter, the council on Tuesday will discuss what sanctioning a "tent city" would entail, a year after San Jose tore down what was once the nation's largest, unsanctioned homeless encampment nicknamed "The Jungle," where violent and unsanitary conditions ran rampant.
City staff this month was directed to study what allowing such a large outdoor homeless encampment - and supervising it - would cost. The report estimates a tent city could cost more $800,000 a year per 100 people in operating and services costs, including portable toilets, showers and waste management, as well as case managers and administrative expenses. A total of 28 tent cities could theoretically temporarily house the estimated 2,800 unsheltered homeless people in Santa Clara County, the city report released Monday stated, at an annual cost of $8.8 million.
No funds have been "identify to cover this additional cost," said Jacky Morales-Ferrand, the city's director of housing in her report. And there is no current movement afoot to create this number of tent cities.
Seattle has just approved such a concept, though the idea is a controversial one. The U.S. Interagency Council on Homelessness does not support the idea, arguing that letting people live outdoors is not a good long-term solution. Long a champion of the homeless, San Jose Mayor Sam Liccardo has opposed the tent city idea, for just this reason.
Ray Bramson, San Jose's homeless response manager, has talked with colleagues in Seattle, Portland, Oregon; and Las Cruses, Mexico - all places that have tried versions of tent cities. And while there are plusses, he said, there is one big drawback to allowing people to live outdoors in tents and on wood pallets: They tend to stay living outside.
"Some people have lived in the tent cities for two years, or even five years," Bramson said, adding that he prefers moving homeless people into permanent housing, and as a second choice, into converted hotels or modular structures, like mobile homes.
Still, Bramson conceded, sanctioned tent cities, supervised by police and social workers, is better than the now-dismantled "Jungle," which he called a lawless and unsanitary place.
Concern for Santa Clara County's nearly 4,000 homeless people is especially poignant as El Nino rains could bring big storms and lots of flooding to Silicon Valley. Already the death last week of a homeless man has been linked to the cold.
San Jose Homeless Man Apparently Freezes to Death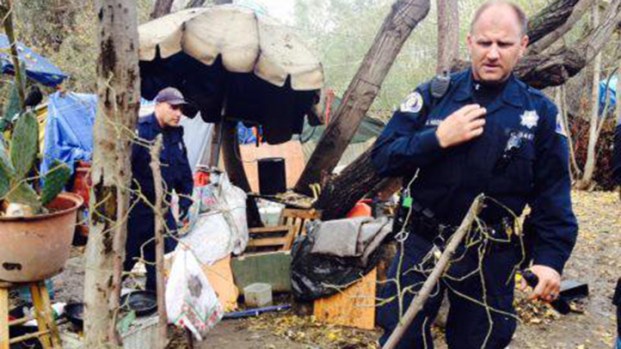 In addition to discussing the pros and cons of the tent city, the council will vote on: Adopting a resolution to declare a "shelter crisis" in San Jose and creating a pilot temporary church shelter program, where faith organizations would also provide beds. The city will also vote on asking Santa Clara County's
HomeFirst
to serve as the administrator of the overnight warming center program, and provide other shelter and services for homeless people during bad weather from Dec. 15 through March 31, 2016. The total amount is budgeted for $430,000.
State law allows a city to declare a "shelter crisis," which suspends certain housing standards to allow homeless people to sleep in public buildings and churches. Emergency status can be granted if the city shows it has a widespread lack of shelter threatens public health and safety. Los Angeles, which currently has more than 26,000 homeless people, has issued "shelter crisis" declarations for years.
The "crisis" status would free up more money and open these shelters: Bascom Community Center at 1000 S Bascom Ave., Tully Community Library at 880 Tully Road, Washington United Youth Center at 921 S. 1st St. and Bibliotheca Branch Library at 921 S. 1st St. as overnight shelters.