San Jose's police chief is winding down his days wearing the blue uniform of the San Jose Police Department.
Chief Larry Esquivel will officially retire on Jan. 16, 2016.
"Well, it's surreal," he said Friday at police headquarters. "It's come down to the last 30 days of my 30-year career."
Esquivel is ending his 30-year career as a member of the San Jose police force, where he spent the last three years as the department's top cop, but he's not retiring from police work. He will take over as the Tracy Police Department chief sometime in February.
San Jose Police Chief Announces Retirement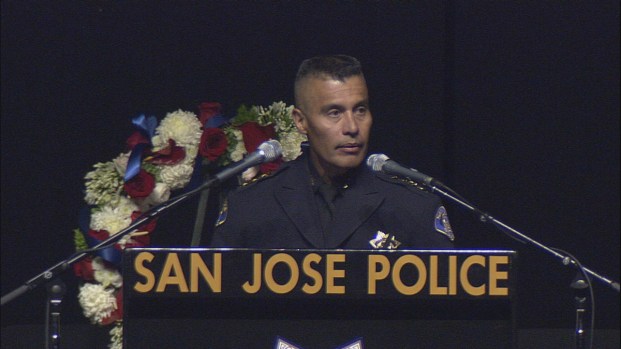 NBC Bay Area asked Esquivel about his proudest moment as chief.
"I don't know I have a proudest moment, but it's mostly the things we've done keeping this organization afloat," Esquivel said.
Esquivel was a standout linebacker at Yerba Buena High School. He worked his way up the ranks, from patrol to the elite MERGE Unit (SWAT), to the Robbery Unit.
As chief, he's had to tackle morale issues and a dwindling police force, including an academy class that plummeted to single digits.
"It's extremely difficult to see those low numbers," Esquivel said, adding that he expects those numbers will turn around.
Esquivel said the toughest call of his career was responding to the murder of one of his men, Officer Michael Johnson.
SJ Police Chief Tackles Murder Suspect Who Tried To Escape
"Meeting the family that morning, that was extremely difficult knowing we had lost a fellow officer in that manner," Esquivel said.
His advice for the next chief?
"Not only stay the course, but make things better by enhancing what we have," Esquivel said. "And there'll be other programs that he and our men and women are going to do for the organization and partnerships with the community to make us more efficient and effective."
In his short tenure as chief, Esquivel did things his way. Earlier this year, he tackled a suspect who tried to escape from police headquarters.
And he still visits the family members of every homicide victim, to assure them that his men and women will do all they can to catch the killers.
"They are part of our community and sometimes...It's reported about homicide No. 20 or 21, and I don't want them to think of themselves, their families, their deceased as just a number," Esquivel said.
Esquivel now prepares to turn in his Badge No. 2546.
Assistant Chief Eddie Garcia will take over the department on an interim basis while the city manager conducts a nationwide search for a permanent chief.