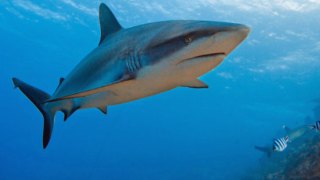 A San Jose State University researcher on Tuesday was featured on the Discovery Channel's "Shark Week."
A never-before-seen species of ghost shark was discovered by Paul Clerkin, 29, a masters degree candidate at the university, just in time to be filmed by the Discovery Channel, according to the San Jose Mercury News.
Clerkin, who's studying at Moss Landing Marine Labs, found eight new species of shark during a 2012 trip to the Indian Ocean.
When Clerkin went back in March, he found a "watermelon-sized" creature with a "brown body, purple fins and thick head," according to the newspaper.
This oddball also has a "venomous, barbed spine emerging from its dorsal fin," the newspaper reported.
Clerkin gets to name the new species of sharks seen on television -- that is, after he finishes his masters thesis, the newspaper reported.