Vandals dislodged and destroyed the gold medal that adorns the iconic statue of Olympic runner and former San Jose State University graduate Tommie Smith.
Campus police -- and those who love the symbolic civil rights statue -- want to know who did it.
The painted mosaic medal, which hangs around the larger-than-life-size statue in the center of the SJSU's campus, was discovered "shattered into many pieces," SJSU spokesperson Pat Harris said, sometime between Wednesday night and Thursday morning, hours before Hillary Clinton visited the campus on a speaking tour.
Campus Police Sgt. John Laws said that the Smith statue, which stands alongside one of fellow Olympian and SJSU grad John Carlos, have been "picked at" before.
"This is the third time it's happened, and it's going to cost a chunk of change to get the artist in to replace it," journalism professor Jessie Pickett.
Smith's medal is not made of real gold.
NBC Bay Area earlier reported the medal had been stolen. In fact, Harris said, the medal was completely destroyed. She said the university's police department had received several calls from individuals hoping to help return the medal.
Adding to the significance of the vandalism is that the statues have recently become a hub for Black Student Union rallies after an African-American freshman was allegedly bullied by four white roommates this fall.
The four were charged with hate crimes, after they allegedly called Donald Williams racist names and put a U-shaped bike lock around his neck. The 17-year-old filed a $5 million claim in March against the school.
The statues of Tommie Smith and John Carlos capture a moment of time reflecting what the two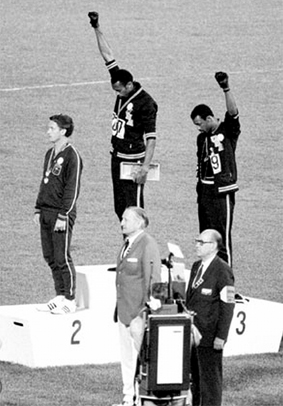 young men did in real life. And it's one of the reasons that Dominique Williams was taking her senior picture in front of the statues on Friday. She told NBC Bay Area that the school's commitment to diversity was a key reason she chose SJSU.
The statue depicts a silent protest made at the 1968 Olympic Summer Games in Mexico City when San Jose State student athletes Smith and Carlos raised their fists in a defiant black power salute.
San Jose State created the statues in 2005 to commemorate their alumni's place in history.
Smith won gold in the 200 meter race with a world-record time of 19.83 seconds. Carlos won bronze.
Tierney Yates is the co-founder of SJSU's Black Unity Group. He says, for many black students, the statues are far more than a piece of art or a look back at history.
"I've never seen anything like this on any campus," Yates said. "When I first came here to see two black men bigger than me right on campus, right behind the president's office, it was very significant to me."

NBC Bay Area's Marianne Favro contributed to this report.