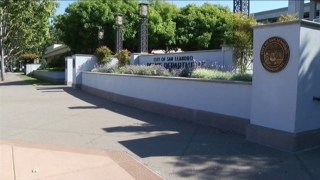 October may be Domestic Violence Awareness month but that didn't stop a San Leandro man from allegedly beating his wife so badly that she's partially paralyzed and hospitalized in critical condition, police said Thursday.
The suspect, identified as Juanito Villaruz, 52, has been arrested, Lt. Robert McManus said. He is in custody at the San Leandro jail on suspicion of domestic violence resulting in great bodily injury.
The beating occurred shortly before midnight at the couple's home on the 1200 block of Douglas Drive, McManus said.
It is "touch and go" for Villaruz's 63-year-old wife, he added. Doctors say that if the woman survives her injuries, she will suffer from severe brain injuries and paralysis for at least a year.
McManus also said the victim has sustained injuries to such a sensitive part of her brain that doctors can't perform a surgery on her for fear of it leading to complications or even death.
The woman was initally taken to a local hospital and was then transferred to another hospital, which has neurological specialists, McManus said.
Meanwhile, Villaruz could be slapped with additional charges if his wife's condition worsens, McManus said.
When police searched the couple's home, they found a rifle and pistol on the kitchen table and at least one of the weapons was loaded, McManus said.
San Leandro police are familiar with Villaruz, who is a customer at an illegal gambling business —Diamond Internet Services — that was raided by police and the California Department of Justice's Bureau of Gambling Control two weeks ago, McManus said.
Villaruz also frequents a residence in San Leandro that's known for illegal activity, he added.