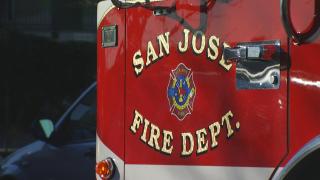 Santa Clara County leaders kicked off a campaign Tuesday aimed at increasing public awareness of making a clear path for emergency crews responding to urgent situations.
The "Pull to the Right for Sirens and Lights" campaign is an effort to help law enforcement agencies, firefighters and emergency medical services providers reach an incident more quickly.
"We need the public's assistance in continuing to make the job safer and to make responses faster for those who need medical care," said
Josh Davies, EMS section chief for the county's EMS agency, during a news conference Tuesday in San Jose.
For the next six months, advertisements promoting the campaign will be posted on 66 Santa Clara Valley Transportation Authority buses, he said.
In a year, the county's EMS system receives more than 120,000 calls and ambulances make 75,000 trips to hospitals and specialty centers, county EMS director Jackie Lowther said.
The county's EMS system covers more than 1,300 square miles making it extremely important to have paramedics reach a scene and determine where a patient needs to go in a safe and timely manner, she said.
County deputy fire chief Steve Prziborowski emphasized the importance of steering to the right because it is common to see multiple emergency vehicles pass through an area, not just one.
Prziborowski advised against drivers following emergency vehicles to get to their destination faster.
"We do make abrupt stops sometimes depending on where we're going or what needs to be done and obviously we do not want to have an accident as we're going to the emergency scene or hospital," Prziborowski said.
Tinted windows and soundproof materials prevent drivers from seeing or hearing emergency vehicles, Davies said.
Since 2011, the county has made changes to its emergency medical services system to catch the public's attention by equipping its ambulances with high-intensity emergency lights that flash at different patterns and are placed different positions on the vehicle, Davies said.
Along with the lights, the emergency vehicles emit a two-toned, high-pitched "wail and yelp" siren that most people are accustomed to, according to Davies.
If an emergency vehicle is facing traffic, it will activate the initial siren, followed by a "howler and warbler" siren that sends off a vibration in front of the vehicle intended for motorists to look into their rear and side view mirrors to see the oncoming car, Davies said. One paramedic described the vibration siren as a deep grumble.
Davies suggested fewer people are veering right for emergency vehicles due to the decrease in driver's education classes as a core component in high school education, fewer questions about yielding for such vehicles on driver's license tests and the increase in immigrants and visitors who may not be familiar with the rule.
"Every minute that gets delayed really changes the outcome for the individual," Davies said.
The campaign also includes videos in English, Spanish and Vietnamese available online through the agency's website and Facebook page.