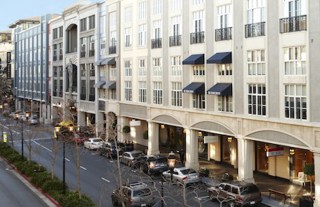 Is a Santana Row coming to Mountain View? Its owners certainly are.
The Maryland-based company that owns San Jose's upscale shopping center is close to closing a deal to buy Mountain View's San Antonio Center, the largest shopping area in that South Bay town, according to the Mountain View Voice.
The newspaper reports Federal Realty is paying $60 million for the 33-acre shopping complex that includes a Trader Joe's, Walmart, 24-hour Fitness, and other local favorites.
Two-thirds of that purchase was in cash, most of it paid to the "Buck family of Marin," the newspaper reported.
With one owner now in command of the parcel, there's opportunity for the entire center to be redeveloped, observers say.
The immediate area is rapidly changing and might sustain a high-end shopping area quite well: There's a 500,000-square foot Google building coming in nearby, and there are "several large apartment projects" coming at El Camino Real and San Antonio Road, the newspaper reported.
However, any big change is years down the road and would require action from the city as well as many vacancies in the area. And most retailers, like Walmart, have leases, according to the paper.