Sure, sea gulls can get aggressive at times, but does any living creature really deserve this sort of cruelty? Being collared with a cut beer can?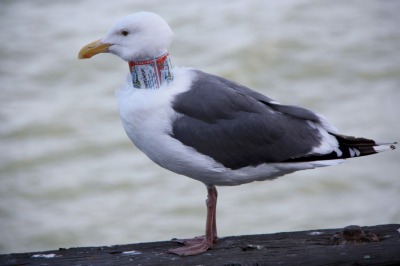 Wild Rescue, an Earth Ways group and animal-rights leader, sightings of stricken birds include Half Moon Bay and various other locations around the Bay Area.
The group, along with International Bird Rescue, is seeking the public's help in locating the birds. They advise that you do not try to capture them, as this will only make them more wary and harder to catch.
Sightings should be reported rescue@wildrescue.org or to a dedicated number: 831-429-2323.
An anonymous donor is offer a $1000 reward for any information leading the arrest of the misguided person -- or people -- perpetrating this.
From their press release: "This is a federal crime punishable by severe fines, imprisonment, or both," says Rebecca Dmytryk, with WildRescue, one of the groups spearheading this effort. The US Fish & Wildlife Services, who administrate the Migratory Bird Treaty Act under which this act is punishable, has been alerted to these incidents.