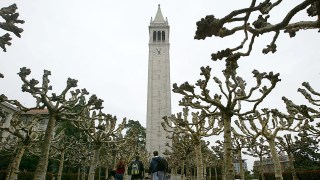 A female victim was battered sexually Friday night on the campus of the University of California at Berkeley, police said Saturday.
The battery occurred at about 8:55 p.m. on the Dwinelle Lot, a parking lot on campus.
The victim was standing near the parking lot's northeast corner steps when a man approached her and grabbed her butt under her shorts, police said.
The victim screamed and the man ran west toward the southwest corner of the parking lot.
Police said the victim was not injured.
Officers searched the area but did not find the man.
Police described the man as Hispanic, in his 20s with a thin build, medium complexion, shoulder-length hair and stubble on his face.
The suspect was wearing a baseball cap, sleeveless T-shirt and a dark backpack, according to police.