The two Americans, accused of being spies, jailed in Iran for the past two years are now with their families in the country of Oman after an emotional reunion on a airport tarmac.
Shane Bauer and Josh Fattal raced down the staircase of the plane that brought them out of Iran and into the arms of their loved ones.
Sarah Shourd, who was arrested with Fattal and Bauer was among the group. She embraced her fiancee Bauer as Fattal was brought into the arms of his parents and siblings. Both men looked healthy and were all smiles in front of a huge gathering of media who were there to witness the event.
"We are so happy to be happy to be free and so relieved to be free," said Fattal at Oman's airport minutes after landing adding that the two were grateful to the government of Oman for securing their freedom.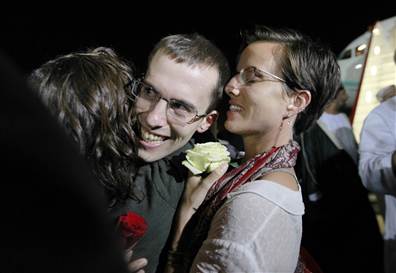 "Two years is too long in a prison," Bauer said. "We sincerely hope for the freedom of other political prisoners and other unjustly imprisoned people in America and in Iran."
Buaer, Fattal and Shourd have been friends since their days at the University of California at Berkeley. All three are Cal grads. Shourd has been living in Oakland for the past year with her mother.
The release of Fattal and Bauer was a mirror image of last year's release of Shourd.
The families of the two men said in a statement ahead of the arrival saying their joy and relief "knows no bounds.''
"Today can only be described as the best day of our lives,'' the statement read. "We have waited for nearly 26 months for this moment,'' it added.
It was not clear how long the men and their families would stay in Oman. When Shourd arrived, she made a round of thank you visits to the people who put up her $500,000 bail.
The three were accused of spying but have all along claimed they were hiking in Iraq's Kurdistan region and crossed Iran's border by mistake. Shourd was allowed to leave the county on humanitarian grounds like year. Bauer and Fattal were put on trial earlier this year and sentenced last month to eight years each in prison.
Their early release was first promised early last week by Iranian President Mahmoud Ahmadinejad and was seen as a political move to gain favor with the United Nations.
Ahmadinejad is in the United State this week at the U.N.'s annual gathering of world leaders. He is scheduled to address the world body Thursday.
It was not clear when Fattal and Bauer would be back on U.S. soil.