Eleven people, most of them children, were injured Wednesday afternoon when a car backing out of a supermarket parking lot collided with a group near Main Street Elementary School in South Los Angeles.
The crash occurred at about 2:30 p.m., shortly after school let out for the day, according to the Los Angeles Fire Department. The driver was backing out of the parking lot of a Food 4 Less supermarket.
"I was backing out of the parking lot to go home and lost control. The brakes quit, failed, something," the driver, who was identified as Preston Carter, told reporters on the scene. "I'm sorry."
When asked his age by a reporter, Carter, pictured below, said he was 101 years old. Carter then said he was born in September 1911, making him 100.
Neither police nor fire officials on the scene would initially confirm his age.
In the wake of the accident Carter, dressed in a pink and blue striped shirt and a cap, sat silently in a chair on the edge of the parking lot. After the driver's initial comments, police would not permit him to speak with reporters, saying the area was a crime scene.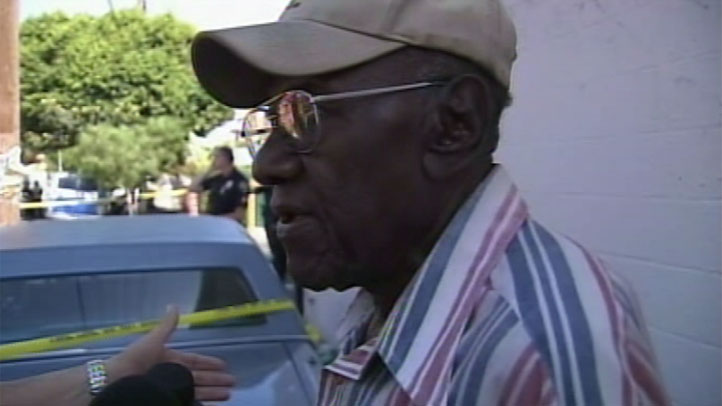 The vehicle appeared to be a gray or silver Cadillac Sedan de Ville. It was being impounded. Investigators said they would inspect it for mechanical problems.
At about 5:15 p.m., aerial video showed authorities putting a woman into a similar car's driver seat and the original driver into the passenger's seat. That vehicle pulled away from the scene, while the car involved in the crash remained on scene.
The Los Angeles Fire Department said that 11 people were taken to hospitals: two adults and nine children, four of whom were seriously injured.
Aerial footage provided by Newschopper4 showed a child in a pink t-shirt being loaded into an ambulance as firefighters and police officers interviewed witnesses at the scene.
Yellow "Caution" tape was draped over the sedan, parked on the sidewalk, and on a black Honda sedan alongside it on the street.
At one point, a young girl sat the arms of an adult talking with a firefighter, a pink Hello Kitty backpack on the ground nearby.
Fire trucks were pulled up alongside a school bus at the scene.
Officials with Los Angeles County+USC Medical Center said five children and one adult injured in the collision had been taken there.