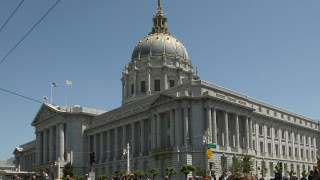 SAN FRANCISCO (AP) - California cities have broad authority to require builders to include a percentage of affordable housing in new projects, the state Supreme Court ruled Monday.
The decision keeps affordable housing requirements approved in more than 170 California cities intact, including San Francisco and cities in Silicon Valley, where housing prices are skyrocketing.
At issue was a 2010 San Jose law that requires some new residential developments to set aside 15 percent of their units for sale at below-market rates. In a statement, San Jose's Mayor Sam Liccardo cheered the decision.
The court "has vindicated San José's bold decision to become the largest city in the nation with an inclusionary housing policy," he said. "And it couldn't have come at a time of greater need for affordable housing. With the crisis we face in our housing markets, I only regret that it required a Supreme Court ruling to uphold the ordinance, because we could have had the benefit of several years of implementation of this important tool."
The California Building Industry Association said the city failed to justify the 15 percent requirement and should base any such requirement on an assessment of any negative effect the market-rate housing would have.
A call to an attorney for the group was not immediately returned.
The California Supreme Court sided with San Jose, saying the city's requirement does not require the developer to dedicate any portion of its property to the public or pay any money to the public. It just restricts the way the developer may use the property, so it falls in cities' ``general broad discretion to regulate the use of real property to serve the legitimate interests of the general public and the community at large,'' Chief Justice Tani Cantil-Sakauye wrote.
In this case, those interests were increasing the amount of affordable housing in the city and of locating such housing in economically diverse developments, the chief justice said.
A ruling that accepted the builders' argument would have affected similar housing requirements in cities across the state and require them to engage in the type of economic analysis that the building association was seeking, Tim Iglesias, a housing law expert at the University of San Francisco School of Law who wrote a brief in the case in favor of the city, said before the ruling came out. That could have resulted in a lower affordable housing requirement, he said.
"It basically would derail those laws,'' he said. ``And if they do come back, they are going to come back possibly less effective.''


NBC Bay Area staff contributed to this report.