The Northern California surfer who was attacked this week off the coast of Humboldt County remained in the hospital Thursday, but his doctors said they expect him to make a full recovery.
The doctors describe Scott Stephens' wounds as if a scalpel cut him, adding that none of the deep bite marks hit any vital organs.
Stephens and his doctors held a news conference to talk about what happened during a noontime surf Tuesday.
Stephens said he was catching a wave when a young great white shark came out of the water and bit him and then pulled him under the water. That's when Stephens found himself in the fight of his life.
"I opened my eyes underwater and punched the shark on the side of the head until it released me,'' Stephens said.
He said he didn't feel any pain, but noticed a lot of blood. He said a wave helped him get back to shore. From there, fellow surfers took over.
One man lay on top of Stephens to stop the bleeding, while another flagged down a pickup truck. The group didn't wait for an ambulance and instead started toward the hospital on their own with the injured surfer in the back of the truck.
"I can't begin to say how appreciative I am of them,'' Stephens said. He called his fellow surfers heroes.
Will be get back in the water?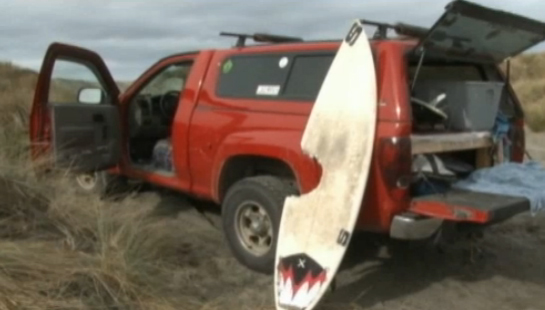 "I'll definitely have some mental barriers to get through. I think it'll be worth it," Stephens said.
But first, he needs to buy himself a new wetsuit and a new surfboard. The shark took a bite out of both.
Published at 2:20 PM PDT on Nov 1, 2012 | Updated at 6:23 AM PDT on Nov 2, 2012