Police arrested a man, who they said was armed and driving recklessly, Wednesday morning in Berkeley, after he seemed to intentionally ram into a pregnant woman, other citizens and "several dozen" cars, perhaps as many as 30, in Oakland and Berkeley.
The man, who police said is a 37-year-old Berkeley resident, hit several private and four police cars.
Oakland Police Lt. Chris Bolton said that in Oakland alone as many as eight cars were struck, including two Oakland patrol cars near E. 23rd Street and Coolidge Avenue in Fruitvale. A woman was injured near 39th Avenue and MacArthur Boulevard as well, Bolton said.
Officers received a report about 8:45 a.m. that the suspect was "actively pointing a firearm at citizens in West Oakland," Bolton said.
Added Oakland police spokeswoman Johnna Watson: "Some witnesses said he intentionally looked at them and drove his car at them." Bolton also said the car was "being driven in an erratic matter."
Witnesses said the 55-year-old driver with addresses in Berkeley and San Pablo had been armed during the bizarre event, though the handgun was missing when police arrested him shortly before 9:30 a.m. near Ohlone Park in Berkeley on Hearst Avenue.
Police said he ditched his car and was walking with his hands in his pockets. After initially ignoring officer commands to stop, the suspect was stopped when police fired a foam bullet at him, Berkeley spokeswoman Jennifer Coats said at a joint news conference.
Police say the man faces multiple charges, including felony evading police and assault with a deadly weapon.
The suspect's identity was not immediately made public, though Coats said he was known to the department. According to the Alameda County District Attorney's Office, however, the car is registered to a man with a criminal history. He was charged with felony vandalism in 2013 for smashing cars with a baseball bat, officials said.
Watson urged anyone whose car was damaged during the spree to call authorities so that they can piece together just how many vehicles were affected. One of the victims was a pregnant woman, she said.
Suspect Vehicle Strikes 'Several Dozen' Cars, Pregnant Woman in Oakland, Berkeley: PD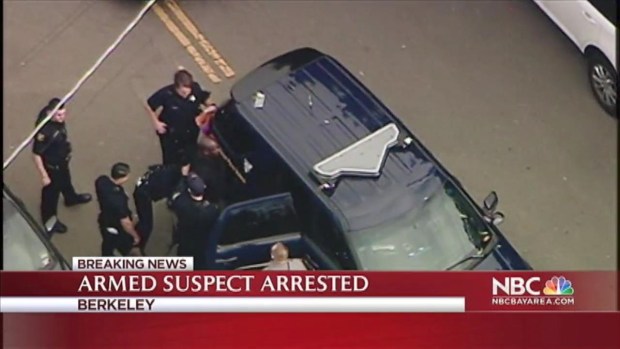 Oakland police tweeted a picture of a the back of the man, who was wearing jeans and red sneakers, shown walking in handcuffs to an Alameda County Sheriff's patrol car. Oakland police were assisted by Berkeley police and the California Highway Patrol, who sent up a helicopter to spot him from the sky.
The drama began about 8:30 a.m., and soon after, Bolton began tweeting about a "critical incident spanning multiple locations" in West Oakland. He said the suspect had "intentionally" struck a person and patrol cars.
Police later described the suspect vehicle as a black four-door Mitsubishi sedan.
Uber driver Duryea Tracy had just picked up a client when the suspect slammed into his brand new Chevy.
"He was coming down this street pretty hard," he recalled. "It's crazy, but like my wife said, it could have been worse — I could have been getting out of the car when he hit me."
Watson said that someone called police just before midnight describing a similar car and suspect to police. Officers are trying to determine if the two are related.
Investigators canvassed the area looking for the suspect's gun, but came up empty as of Wednesday evening.
"We're all going to have to work together to try to figure out why he was doing this and what led up to this," Coats said.
The investigation is ongoing and people with information are asked to call the Oakland Police Department Felony Assault Unit at (510) 238-3426.
55yo #Berkeley suspect coming in and out of police SUV, questioned by investigators. Police still looking for gun. pic.twitter.com/05CMq5JQPG

— Stephanie Chuang (@StephChuang) February 10, 2016
.@oaklandpoliceca: driver was arrested in #Berkeley after bean bag gun deployed. He is 55yo with known addresses in #Berkeley & #SanPablo

— Stephanie Chuang (@StephChuang) February 10, 2016
OPD, BPD, CHP & ACSO arrest armed driver responsible for multiple assaults with a vehicle on officer & citizens. pic.twitter.com/cMEnqvE9K7

— Oakland Police Dept. (@oaklandpoliceca) February 10, 2016
#OaklandPolice and Berkeley Police taking suspect into custody in City of Berkeley. Vehicle is recovered, driver safely detained.

— Lt. Chris Bolton (@OPDChris) February 10, 2016
#OaklandPolice handling a critical incident spanning multiple locations. @CHPoakland assisting. More details to follow

— Lt. Chris Bolton (@OPDChris) February 10, 2016
#OaklandPolice looking for black or gray 4 door Mitsubishi, last 3 license plate digits of 204. Last seen in West Oakland, call 911 if seen

— Lt. Chris Bolton (@OPDChris) February 10, 2016
#OaklandPolice located vehicle & in pursuit. Reports of vehicle intentionally hitting civilian & police vehicles, driver reportedly armed

— Lt. Chris Bolton (@OPDChris) February 10, 2016
#OaklandPolice terminated pursuit of felony vehicle due to public safety concern. Vehicle has fled Oakland & officers no longer in pursuit

— Lt. Chris Bolton (@OPDChris) February 10, 2016
#NEW: #Oakland PD says man armed with handgun drove into several cars,pointed gun at them. One victim=pregnant woman. "Extremely dangerous."

— Stephanie Chuang (@StephChuang) February 10, 2016