San Francisco police bomb squad officers surrounded a suspicious object that eventually turned out to be a rice cooker Thursday morning at a major city intersection near a Goodwill.
Police blocked off the area after San Francisco Municipal Railway officials reported the package about 7:30 a.m. at South Van Ness Avenue and Mission Street, a busy thoroughfare.
A bomb-detonating robot was sent in, and police deemed the cooker safe by about 9:10 a.m. after seeing nothing inside. The lid had been sealed and the cord had been dangling. RAW: Rice Cooker Found at a Muni Bus Stop
"A rice cooker near at a bus stop is not something you normally see," said Sgt. Michael Andraychak. At the time time, the proximity of the object to Goodwill could also have meant that it was to have been a "donated item. We didn't know at the time. We have to exercise caution."
San Francisco police, along with others in the country, have been on edge since a bomb exploded in New York City last weekend. Surveillance video shows suspected New York and New Jersey bomber Ahmad Rahami dump luggage containing a pressure-cooker explosive device on 27th Street in Manhattan's Chelsea neighborhood Saturday night, authorities said. RAW: San Francisco's Bomb Robot Investigates Rice Cooker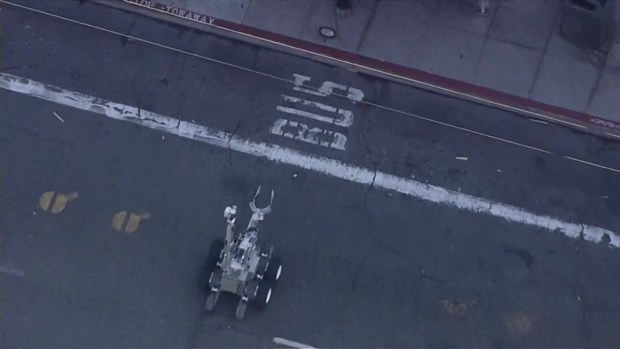 Police are currently looking for two witnesses who they say found the suitcase, opened it, removed the pressure cooker and walked off.
A bomb that exploded on 23rd street in New York injured 31 people. Rahami was charged in federal court with planting the devices and several more in New Jersey.
Rice cooker left at Muni stop. #SFPD shuts down Van Ness & Mission and calls out bomb squad for fear of pressure cooker bomb. #NYCExplosionpic.twitter.com/WPhXUE0KZj

— Bob Redell (@BobNBC) September 22, 2016
WATCH; @SFPD bomb detonator investigates rice cooker at major SF intersection. https://t.co/nV5AfOhOxBpic.twitter.com/M0pG3UMVjV

— NBC Bay Area (@nbcbayarea) September 22, 2016
Rice cooker causes bomb scare at major San Francisco intersection. https://t.co/nV5AfO0dG3pic.twitter.com/ktbHI0Soyr

— NBC Bay Area (@nbcbayarea) September 22, 2016
Bomb squad robots on scene near Goodwill in SF near suspicious object. https://t.co/WZiAlEVObbpic.twitter.com/5SOHUpd01Y
— NBC Bay Area (@nbcbayarea) September 22, 2016